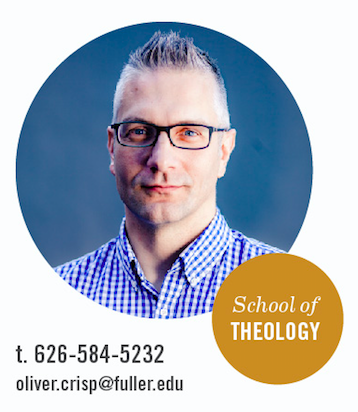 Professor of Systematic Theology
BD, University of Aberdeen
MTh, University of Aberdeen
PhD, King's College, University of London
DLitt, University of Aberdeen
Systematic theology, analytic theology, philosophical theology, historical theology, hamartiology, Christology, soteriology, the theology of Jonathan Edwards, the theology of William Shedd, Reformed theology
Current research: The Atonement
ST501: Systematic Theology 1
ST502: Systematic Theology 2
ST503: Systematic Theology 3
TH861/ST564: Topics in Contemporary Christology
TH867/569: Contemporary Perspectives on the Atonement
TH861/ST564: Topics in Contemporary Christology
TH569: The Doctrine of Atonement
TH573: The Theology of Anselm of Canterbury
Fuller Leadership Platform on Analytic Theology
$102k award Templeton Foundation (via BioLogos) for "Original Sin Redux" a research project for 2013-14.
"What is meant by the term evangelical appears to be shifting as are many other things in the Christian culture. Where will this movement lead, and what role does Fuller have in the shaping of it at this important juncture in our history and in the life of evangelicalism more broadly? What does it mean to be evangelical today, and what does it mean for Fuller to be evangelical?"
+ Read Dr. Crisp's guest edited issue of FULLER on the topic of evangelicalism. Coming soon: an audio series from his Analytic Theology lectures.
Oliver D. Crisp, professor of systematic theology, joined Fuller's faculty in 2011. He is also a professorial fellow at the Institute for Analytic and Exegetical Theology, University of St. Andrews, Scotland. He is currently heading up a major $2 million, three-year research project entitled "Prayer, Love, and Human Nature: Analytic Theology for Theological Formation," funded through the generosity of the John Templeton Foundation.
Dr. Crisp has published many articles in professional journals including the Journal of the American Academy of Religion, Theological Studies, Religious Studies, Scottish Journal of Theology, and International Journal for Systematic Theology, among others. He has edited or coedited ten books and is the author of ten monographs, including Deviant Calvinism: Broadening Reformed Theology (2014), Jonathan Edwards Among the Theologians (2015), and The Word Enfleshed: Exploring the Person and Work of Christ (2016).
Along with Fred Sanders of Biola University, Crisp has initiated the Los Angeles Theology Conferences, which are held at Biola and Fuller in alternate years. The proceedings are published annually by Zondervan Academic. Crisp is also an editor of the Journal of Analytic Theology, and coeditor with Professor Michael Rea of the Oxford Studies in Analytic Theology, published by Oxford University Press.