LOS ESTUDIANTES DEL CENTRO LATINO SE GRADUARÁN CON:
Un fundamento teológico fuerte basado en la autoridad de las Escrituras.
Las herramientas específicas para ministrar en la comunidad Latina.
La preparación para la *ordenación como también puestos de liderazgo en toda área de ministerio cristiano.
La capacidad de dirigirse a un mundo diverso por medio de un ministerio cristiano práctico.   
*Favor de consultar su denominación para obtener mas información acerca de los requisitos de ordenación.
Fuller es uno de los seminarios más diversos del mundo, con estudiantes de muchas denominaciones y 90 países, incluyendo toda América Latina. El Centro Latino tiene 40 años de experiencia proveyendo un currículo que responde específicamente a la iglesia y comunidad latina. 
El Seminario se compone de tres facultades: la Facultad de Teología, la Facultad de Sicología y la Facultad de Estudios Interculturales. 
El Centro Latino ofrece como parte de la Facultad de Teología una Maestría en Artes en Teología y Ministerio (MATM - 20 materias, 80 unidades), una Maestría en Artes en Teología (MAT - 20 materias, 80 unidades) y una Maestría en Divinidades (30 materias, 120 unidades). 
Fuller es acreditado por la "Association of Theological Schools" (ATS) y el "Western Association of Schools and Colleges" (WASC).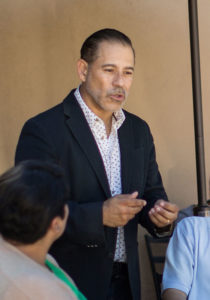 Gracias por su interés en el Centro Latino. Hoy hay una creciente sed de prepararse teológica y bíblicamente para forjar un ministerio aún más sobresaliente. El Seminario Fuller, a través del Centro Latino, se presenta como un agente del Reino de Dios en este proceso de preparación del pueblo de Dios. Estamos profundamente comprometidos para lograr que su experiencia educativa sea una jornada de desarrollo integral, que la/lo lleve a glorificar a Dios y a transformar sus comunidades en el contexto de las Américas y el mundo.
Nuestra meta es clara: afirmarle en su llamado al ministerio y proveerle una experiencia educativa al máximo nivel, capaz de ofrecerle los recursos necesarios para su mejor desenvolvimiento como discípulo/a, siervo/a y líder en un mundo multicultural.
Que el Espíritu, quien nos ayuda a discernir la voluntad divina, le oriente en estos momentos en que se dispone a tomar decisiones cruciales en su vida y ministerio.
Oscar García-Johnson, PhD
 
Director del Centro Latino