HISTORY 
Born out of the Christian community's need for psychologists who are committed Christians and competent clinicians and scholars, the School of Psychology fulfills the hope for a school where theology and psychology are in continuous dialogue, a place where the Cross informs all models of healing and transformation, a place whose graduates are agents of transformation serving church and community. 
In 1961, psychologist John G. Finch delivered a series of lectures at Fuller Seminary on the theological and psychological dimensions of humankind. The vision he articulated, one that integrated the Christian faith with the field of psychology, sparked the idea for a School of Psychology at Fuller. With generous financial support from C. Davis and Annette Weyerhaeuser, further study and planning followed and, in 1964, the opening of the Pasadena Community Counseling Center initiated the first phase of the new program.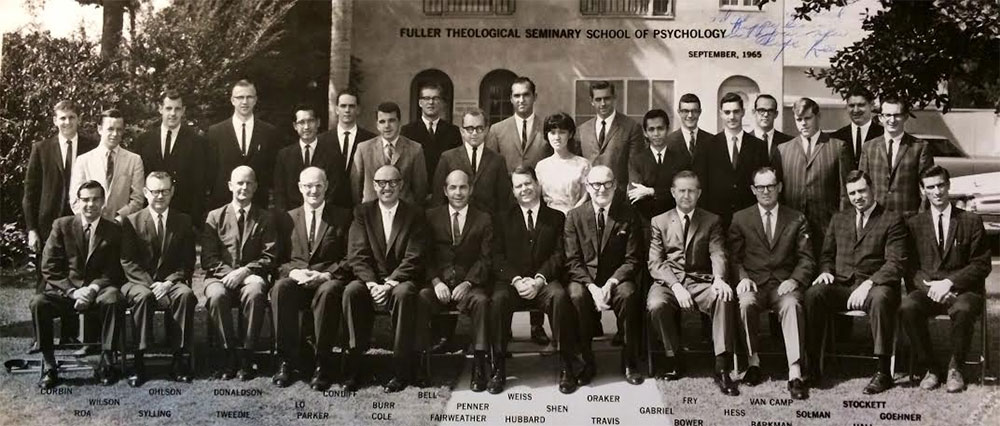 In September 1965, with Dr. Lee Edward Travis as dean, the School of Psychology held its first classes—with 25 full-time and four part-time students, a faculty of six, a visiting faculty of five. In 1972 came a milestone: the American Psychological Association granted approval to the school's doctoral program in clinical psychology, making Fuller's the first program in a seminary to receive APA accreditation.
In the 1960s, 1970s, and 1980s, the school enlarged its vision for serving the local community as it trained students by creating research programs, clinics, and outreach programs. By 1976, all training clinics were centralized under the umbrella of the Psychological Center, now known as Fuller Psychological and Family Services.
The school broadened its portfolio of degrees and programs in 1987, when it established a second doctoral degree, the Doctor of Psychology, and welcomed the Marriage and Family program (formerly in the School of Theology) as a department within the School of Psychology.
The school's capacity for excellent research was further strengthened with the founding of the Lee Edward Travis Research Institute for Biopsychosocial Research (TRI) in the 1987-1988 academic year. Ever since, the distinctive research centers within Travis Research Institute have provided the setting and support for faculty and students to engage in collaborative, often groundbreaking research in a range of areas: religion and psychotherapy; stress, trauma and adjustment; neuropsychology; child and adolescent development; and most recently thriving, with the opening of its Thrive Center for Human Development. Today the Fuller School of Psychology's strength and reputation in research is unmatched among Christian psychology programs.
The School of Psychology has continued to expand and refine its programs in recent years to serve growing needs. In 2012 the Marriage and Family Therapy program was extended to the Fuller Southwest regional campus, where the full MFT degree can now be earned. Subject to final approval from the Western Association of Schools and Colleges (WASC), a new non-clinical PhD in Psychology program will be launched in Fall 2014.
Diversity among both students and faculty has increased significantly over the school's history, and particularly in the past decade. Students now are drawn to the school from a range of countries and enrich the learning experience for all with their perspectives. And increasingly School of Psychology graduates are going out to serve in more diverse locations and contexts, taking much-needed mental health services to communities and nations that have traditionally been underserved.
For 50 years, Fuller's School of Psychology has been driven by a pioneering spirit and a commitment to excellence in integration, research, and clinical training. With theological and psychological inquiry at the heart of our programs, we will continue to equip students to become marriage and family therapists, clinical psychologists, educators, and researchers prepared to serve with grace and truth.
--
Questions related to the program's accredited status should be directed to the Commission on Accreditation:
Office of Program Consultation and Accreditation

American Psychological Association