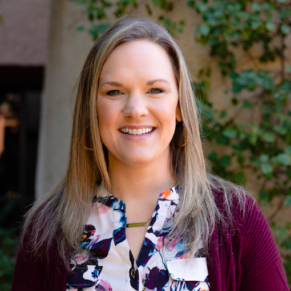 BA in Psychology, Biola University
MS in MFT, Fuller Theological Seminary
Bonnie Lewis, LMFT, is a certified EFT therapist and EFT supervisor-in-training. Practicing since 2014, one of Lewis's passions is teaching and mentorship. As an approved supervisor with the AZBBHE and clinical director at Therapy with Heart, she enjoys providing supervision to practicing professionals in their journey towards obtaining their license. Lewis has worked as a teacher's assistant for Clinical Foundations and is currently an adjunct professor and group supervisor at Fuller Theological Seminary Arizona for the Marriage and Family Therapy graduate program.
She facilitates couples workshops like Hold Me Tight and Created for Connection to help couples remove stumbling blocks to vulnerability to then be able to go deeper in their connection, resulting in their relationship being a source of healing. She was the director of training for AZEFT Board and is actively involved in the EFT community as well as serving on the AZAMFT Board over the years, including speaking at AZAMFT Spring Conference in 2022 with her colleague Rachel Thomas, LMFT. When not working, Lewis cherishes the time with her husband and two daughters. She values her family, time outdoors, reading, traveling, being active, and connecting with her community.