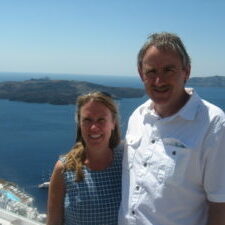 Adjunct Associate Professor of New Testament
BA, Biola University
PhD, University of Manchester
Jan Fekkes III teaches Interpretive Practices and New Testament Introduction for Fuller. He was born in the Netherlands (Rotterdam), but has lived in the States most of his life. Dr. Fekkes completed a BA in Biblical Studies at Biola University and then a PhD in the same at the University of Manchester in England, where one of his mentors was Richard Bauckham, who helped get his dissertation on the book of Revelation published. In the last 25 years, Fekkes has taught Biblical Studies and Theology at Seattle Pacific University, Puget Sound Christian College, Trinity Lutheran College, and The Seattle School of Theology and Psychology. More recently, he has been teaching online courses in Biblical Studies for Northwest University (Kirkland) as well as for Fuller. Fekkes is currently working on a journal article titled "Scorched Earth Warfare in the Book of Revelation and the Lord of the Rings." Fekkes's religious upbringing and affiliations have been fairly broad: he grew up in the Roman Catholic Church, later spent ten years ministering in the Christian Churches/Churches of Christ, and while in England was involved for four years in the Methodist communion. For the last 33 years, Fekkes and his family have been actively involved in Camano Chapel, a local nondenominational community church, where he helped to lead the instrumental worship team, playing guitar and piano (and sometimes banjo or mandolin). His wife Lori is an R.N. and works part-time at a local retirement home. Fekkes and Lori have five sons, and their oldest is a pastor at a local church in the Reformed tradition. For hobbies, besides music, Fekkes enjoys remodeling around the house (he used to work construction in the summers when he wasn't teaching), and traveling.
Isaiah and Prophetic Traditions in the Book of Revelation: Visionary Antecedents and Their Development. Sheffield: JSOT Press, 1994.
"'His Bride Has Prepared Herself': Revelation 19-21 and Isaian Nuptial Imagery." Journal of Biblical Literature 109, no. 2 (1990): 269–87.
"Isaiah and the Book of Revelation: John the Prophet as a Fourth Isaiah?" In As Those Who Are Taught: The Reception of Isaiah from the LXX to the SBL, edited by Claire Mathews Mcginnis and Patricia K. Tull, 125–44. Atlanta, GA: SBL Press, 2006.