INTEGRATE THE GOSPEL WITH ASIAN AMERICAN IDENTITY
How do we allow the gospel to permeate and transform every aspect of who we are? Students at Fuller's Center for Asian American Theology and Ministry—or Asian American Center (AAC)—are equipped with a contextualized gospel that enables them to more wisely and fruitfully lead as an Asian American or in Asian American contexts. In a seminary environment of unmatched global diversity and academic resources, students learn to integrate biblical truth deeply with the complexities of the Asian American experience, identity, community, and mission.
I'd Like More Information on Studying with the Asian American Center
Dean of Students Steve Yamaguchi reflects on our tendency to "erase" parts of others' identity—listen now
LISTEN TO GRAPHIC NOVELIST GENE LUEN YANG AND OTHERS DISCUSS THE GOSPEL, POP CULTURE, AND ASIAN AMERICAN IDENTITY
Explore this six-course certificate that guides students toward transformational discipleship and leadership in Asian American contexts
FROM THE DIRECTOR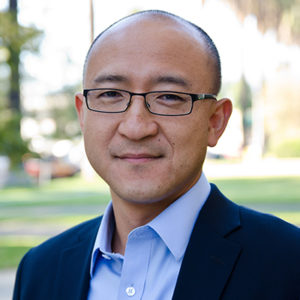 I didn't always believe that my Asian American identity mattered for my faith. Because of the universality of the gospel, I thought that being a Christian meant that my cultural, ethnic, and racial identities didn't matter. However, none of us can be a Christian in some abstract sense. We belong to God precisely in our ethnic, racial, cultural, and gender identities. Our Christian identity, discipleship, and calling always occur in and through these human particularities.
Anselm of Canterbury stated that theology is faith seeking understanding. Now as then, we all seek God in our world; we ask questions that are pressing to our lives and situations. What are the struggles of Asian American churches and ministries? What are the challenges of Asian American leaders serving in different contexts? What does the good news look and sound like to the broader Asian American community? At Fuller's Asian American Center, we wrestle with these questions and become equipped to lead others in navigating the future.
Daniel D. Lee, PhD
Director, Asian American Center