Center for Asian American Theology and Ministry
Photos by Stacia Hiramine

Researching, Equipping, and Resourcing the Asian American Church
How do we allow the gospel to permeate and transform every aspect of who we are? Students at Fuller's Center for Asian American Theology and Ministry—or Asian American Center (AAC)—are equipped with a contextualized gospel that enables them to lead as an Asian American or in Asian American contexts. Students learn to integrate biblical truth deeply with the Asian American experience, identity, and community.
This includes a rich understanding of the complex needs and leadership potential of East/Southeast/South Asian Americans; the particular experiences of multiethnic folks and adoptees; navigating ethnic-specific and pan-Asian American contexts; and more.
Asian Pacific American Heritage Month Celebration 2023
This year, Fuller APAHM will highlight the South Asian American experience through the theme "Faith and Well-Being." Join conversations about mission, diasporic movement, culture, racism, colonialism, and casteism led by scholars Sam George (Wheaton College) and Ulash Thakore-Dunlap (Wright Institute).
The Center for Asian American Theology and Ministry, in partnership with the Asian American Student Fellowship (AASF), holds events and hosts speakers for our students both in Pasadena and online throughout the year—including a welcome banquet, guest lectures, Asian American and Pacific Islander Heritage Month in May, and a graduation banquet. These events, as well as other AASF social gatherings, offer natural points of connection and community for Asian American students, leading many to become friends and study partners and even lifelong ministry collaborators.
Our foundational course, Asian American Identity and Ministry (TM528), provides an interdisciplinary framework that integrates psychology, sociology, culture studies, and critical race theory with theology. It is a must-take class for Asian American students, regardless of their calling, and for those looking to minister in Asian American or multiethnic contexts.
Other courses include:
Asian American Pastoral Ministry (PM506)
Asian American Theologies (ST544)
The Church as Family System (FI506)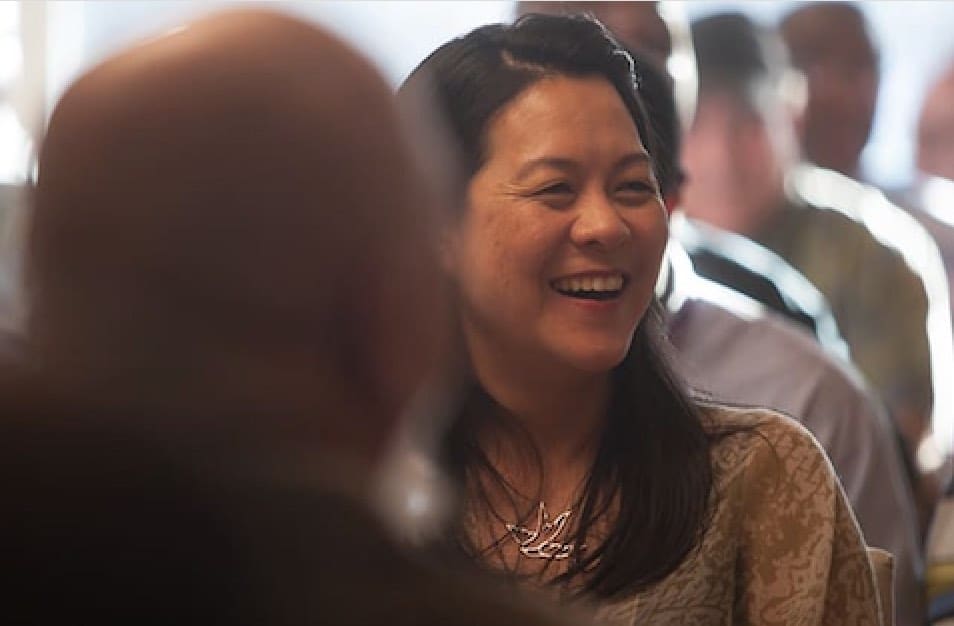 Formation Groups and Mentoring
Those who wish to can participate in quarterly, faculty-led Spiritual Formation Groups—intimate cohorts of four to five Asian American students. By sharing their personal journeys in a safe, guided environment, students in these groups have the opportunity to work through their identity, calling, and relationship with Christ. Center for Asian American Theology and Ministry staff are available to support students in other ways as well: dealing with personal matters, looking for resources for a paper, or exploring questions of vocation and calling. We can also connect students with faculty on campus or other Asian American scholars around the country.
Filipino American Ministry Initiative
Filipino American Ministry Initiative (FAMI) offers community, mentoring, and resources to Filipino Americans at and beyond Fuller Seminary. Through events like our annual Filipino American History Month celebration and other formational programming, FAMI integrates theology and psychology with cultural identity, spirituality, and leadership.
Centering: The Asian American Christian Podcast
The Asian American Center produces a podcast on Christ, the Christian life, and Asian American perspectives with rotating hosts. Between regular episodes, as well as specially presented content, we dive into the reality and beauty of living out Asian American Christian faith. Seasons have focused on psychology and mental health, building community as AAPI Christians, Christ and culture, and more.
Our widely respected faculty combine decades of ministry experience with groundbreaking
work in church leadership, Pentecostal theology, psychology, and more.
Affiliate Assistant Professor
of Theology and Ethics
Adjunct Assistant Professor
of Asian American Church Studies
Asian American Center on FULLER studio
Where God Meets Us: Four Approaches to Asian American Origins and Theology
Daniel D. Lee, academic dean for the Center for Asian American Theology and Ministry, explores four types of Asian American histories and the ways God might be uniquely encountered in each.
Grounded in Christ While Living in Between
Janette Ok, associate professor of New Testament, speaks with Amos Yong about practices of rest and grounding oneself during seasons of transition.
The Evangelical Pursuit of Truth
Soong-Chan Rah, Robert Boyd Munger Professor of Evangelism, looks to the pursuit of truth—rather than the focus of possessing truth—as the way forward for Christians and the church.

Daniel D. Lee
Academic Dean
Center for Asian American Theology and Ministry
Assistant Professor of Theology and Asian American Studies
danieldlee@fuller.edu
Russell Yee
Asian American Formation Group Facilitator
Center for Asian American Theology and Ministry
Adjunct Professor of Worship
russellyee@fuller.edu
Jessica ChenFeng
Contextual Identity Formation Advisor
Center for Asian American Theology and Ministry
jchenfeng@fuller.edu
Christy Chia
Women in Ministry Coordinator
Center for Asian American Theology and Ministry
christychia@fuller.edu
Kevin Doi
Adjunct Assistant Professor of Asian American Church Studies
Director of Pastoral Formation
Center for Asian American Theology and Ministry
Chaplain
kevindoi@fuller.edu
Gabriel J. Catanus
Director of Filipino American Ministry Initiative
Affiliate Assistant Professor of Theology and Ethics
gabrielcatanus@fuller.edu
Eleanor Baylon
Director of Formation
Filipino American Ministry Initiative
eleanorbaylon@fuller.edu
Linson Daniel
South Asian American Ministry Advisor
linsondaniel@fuller.edu
Gillian Garcia
Program Assistant
Center for Asian American Theology and Ministry
gilliangarcia@fuller.edu
Office Location
460 Ford Place
1st Floor
Pasadena, CA 91101
Mailing Address
135 N. Oakland Ave
Box M
Pasadena, CA 91182