CARE FOR CULTURE THROUGH THE ARTS
The arts not only mirror cultural change, they can bring God's healing to cultural brokenness. Through Brehm Center courses, programs, and events guided by Director Mako Fujimura's vision for Culture Care, leaders learn to critically integrate theology and the arts as they creatively explore and express their own callings.
WHAT THE BREHM CENTER OFFERS
+ A Christ-centered, spiritually nourishing community
+ A space to creatively explore and express one's calling
+ Opportunities to learn and be resourced to care for culture
+ Tools for critically integrating worship, theology, and the arts
PROGRAMS, COURSES, AND EXPERIENCES
The Brehm Center works in tandem with Fuller's Schools of Theology, Intercultural Studies, and Psychology to provide a number of programs, courses, and forms of support.
MASTER'S DEGREE AREAS OF INTEREST
Students can pursue a Brehm Center area of interest with any theology or intercultural studies master's degree program:
Worship, Theology, and the Arts
CERTIFICATE PROGRAM
Fuller's School of Theology offers a six-course Certificate of Christian Studies program. Build your own pathway of study within Worship, Theology and Arts. Students may also choose to apply some or all of these courses to a future master's program at a later time.
IMMERSION COURSES
Students, alumni, and other interested participants engage in rich on-site learning through immersion courses at these locations:
South by Southwest (SXSW)
PHD/THM CONCENTRATIONS
The Brehm Center offers two areas of concentration for students pursuing a PhD in Theology or ThM in Theology:
A DIVERSITY OF COURSES
Courses offered through the Brehm Center include these and many others:
Theology and Film
Students view and discuss selected films and explore theological approaches to film criticism
Music as Theological Expression
This course considers the varied ways that music dynamically expresses Christian faith
Theology and Arts Capstone
Students reflectively integrate coursework with their areas of artistic, ministerial, or cultural interest
STUDENT GROUPS
Brehm Center student groups offer community and social connectedness as well as opportunities for artistic expression and exploration:
The Brehm Collective creates a space for students to make, discuss, and experience a variety of art expressions with guided discussions, open mic nights, art workshops, and other activities.
Fuller Filmmakers provides a loving community where filmmakers, cinephiles, and creatives discuss and enjoy the art of film in relation to theology.
MENTORSHIP
Students completing a thesis project in any of our programs are paired with an artistic mentor to faithfully guide them through the creative process, helping them better understand the project as an expression of their calling and spiritual discipline.
Caitlyn Ference-Saunders, MAT Student, Theology and the Arts
Andre Henry, MAT '16, Biblical Studies
Matthew Aughtry, MDiv '16, Theology and the Arts
The Brehm Center focuses on different areas of artistic and ministry interest through a variety of initiatives and institutes:
Working out of the Fuller Texas campus in Houston, Brehm Texas seeks to revitalize the church through the arts for the common good
Brehm Cascadia exists to theologically equip the church for mission in the Pacific Northwest through engagement with the arts and culture.
Reel Spirituality brings together filmmakers and film viewers to consider culture's primary stories—as shown on screen—and the Christian faith
The Ogilvie Institute offers resources empowering preachers to seek justice and lead others to join God's mission in the world
As a study and exhibition center, Visual Faith helps Christians understand the role of the visual arts in the renewal of culture and worship
Global Christian Worship engages the study of various cultural forms of music and the arts for more informed ministry and mission
Continue the Conversation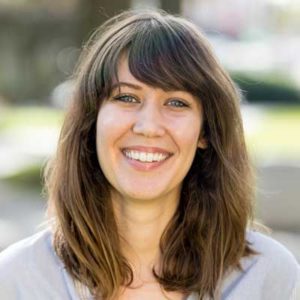 If you have any questions or would like more information about studying with the Brehm Center, please contact us.
Our offices are open Monday to Thursday from 8am to 5pm, and 10am to 5pm on Friday (Pacific Time).