Nuestros Programas: ¿Por qué Fuller?
El Seminario Teológico Fuller es reconocido como uno de los seminarios evangélicos más influyentes y diversos en el mundo. Fuller ofrece 16 programas académicos a través de las escuelas de Misión y Teología, y de Psicología y Terapia Matrimonial y Familiar- con opciones en inglés, español, coreano y en modalidad en línea. Asimismo, ofrece los recursos de 22 centros, institutos e iniciativas. Actualmente contamos con una matrícula anual de aproximadamente 3,500 estudiantes - provenientes de 90 países y 110 denominaciones - y con más de 43,000 ex alumnos(as) que han sido llamados(as) a servir en una variedad de ministerios alrededor del mundo siendo ministros(as), consejeros(as), maestros(as), artistas, líderes en organizaciones sin fines de lucro, empresarios(as) y en otras vocaciones.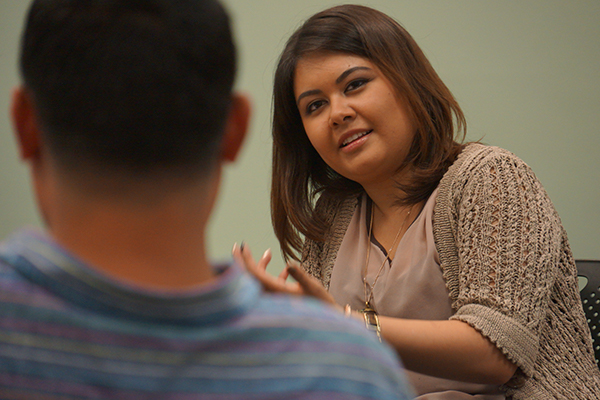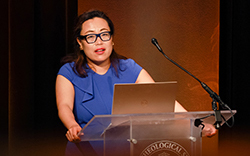 Maestría en Divinidades (MDiv)
La Maestría en Divinidades es la más completa de las maestrías de teología en Fuller. Esta maestría forma estudiantes de manera integral, con un liderazgo ministerial ágil, bíblico y contextualizado dentro y fuera de la iglesia (por ejemplo: pastor(a), profesor(a), capellán(a)a, director(a) de organizaciones y más).
120 unidades (30 materias)
3-4 años
En línea (materias sincrónicas y asincrónicas)
Modalidad Cohorte – Nueva cohorte 2023

Estudiantes deben ser bilingües (20 materias en español y 10 en inglés)
The MDiv is also available in English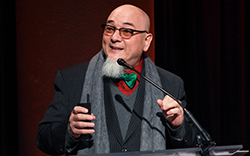 Maestría en Teología y Ministerio (MATM)
La Maestría en Teología y Ministerio (modalidad cohorte en línea) combina el aprendizaje práctico con los estudios bíblicos para formar a los/as estudiantes para servir en una iglesia, organización sin fines de lucro u otro entorno con competencia teológica y cultural.
80 unidades (20 materias)
3 años
En línea (materias sincrónicas y asincrónicas)
Modalidad Cohorte – Nueva cohorte 2023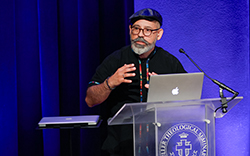 El doctorado en ministerio está orientado a equipar a pastores/as y líderes ministeriales para ser formados/as en prácticas reflexivas que lleven a nuevos niveles de discernimiento teológico y destrezas misionales.
The DMin is also available in English.
Testimonio de Estudiantes
"Las clases en Fuller además de contemporáneas e innovadoras, significaron para mí una experiencia transformadora. Como mujer líder de la iglesia y comprometida con la comunidad, tuve la posibilidad de dejarme inquirir por esa realidad transformadora que se vive en la interacción con los profesores y profesoras dentro y fuera de clases, además de la convivencia con líderes y pastores de contextos totalmente diferentes al mío. Desde mi experiencia eso fue fundamental para comprender en profundidad la base concreta del itinerario ético y espiritual del ministerio que ya había venido desarrollando por años. Pero aún más importante: fue fundamental para redefinir y revalorar el llamado que Dios me había hecho muchos años atrás"
– Yolanda Chavez (MDIV, 2019)
Contáctenos para recibir más información sobre los programas del Centro Latino de Fuller
Estamos comprometidos a hacer que una educación teológica sea accesible. Becas y otras formas de apoyo financiero están disponibles para ayudar con el costo de su educación. Un número selecto de estudiantes recibirá la Beca Centro Latino, que cubre el 60 por ciento de la matrícula en los cursos contemplados dentro de la modalidad cohorte (20 clases). Tanto los(as) estudiantes admitidos(as) en el MATM como en el MDiv, son elegibles para aplicar a esta beca. En el caso de los(as) estudiantes admitidos en el MDiv, la Beca Centro Latino aplica únicamente para las 20 clases contempladas dentro de la cohorte. Las 10 clases necesarias para completar su programa MDiv deben ser tomadas en inglés y puede aplicar a alguna de las otras becas disponibles en Fuller. Solicite más información con su consejera de admisión.
Monday–Friday
8 am–5 pm
Dirección
120 N. Madison Ave
Pasadena, CA 91101