THE WHOLE CHURCH FULLY FORMED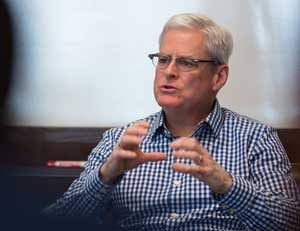 "We believe the regeneration of the church relies on the formation of all God's people to take their place in the kingdom work of God—and that this happens at the intersection of worship, community, mission, and vocation. Our Church Formation Groups accomplish this by providing spiritual formation and mentorship for a church's key leaders, with contextualized coaching to help them extend that formation throughout their entire congregation."
Brian Wallace 
Executive Director, Fuller Formation Groups
TWO YEARS OF TRAINING AND COACHING FOR CHURCHES
THE FIRST YEAR
Fuller faculty and staff will provide three to six key leaders with training and mentorship through quarterly retreats, monthly small groups, and weekly videos and formation exercises. We'll also coach core teams to lead and form the next tier of instrumental leaders, both staff and volunteer. We'll work with churches to create a contextualized plan and process that address the unique needs of each congregation.
THE SECOND YEAR
We'll continue to provide the coaching and mentoring to grow leaders spiritually, equipping them to be adaptive leaders who can serve effectively for the long haul. We'll help each church develop the concrete, contextualized curriculum and implementation plans that will enable their entire congregations—children, youth, and adults—to be equipped for kingdom mission.
THROUGHOUT: GROWTH IN COMMUNITY
Each Church Formation Group is part of a "cohort" of three to six churches, allowing leadership teams to learn with and from other congregations who share the same passion for the kingdom but differ in contexts and experiences. With learning opportunities customized to each cohort, insights and resources will be shared within a community of growth, faith, and support.