Commencement Information for Guests
TICKETS AND SEATING
DOORS OPEN
The auditorium will open from 8:30 a.m. to 9:30 a.m. for families of graduates with Family Early Admission Passes.
The auditorium will open at 9:30 a.m. for all other guests. Be advised that seats may be very, very limited.
Please note that food and drink are not permitted inside the church building. Any beverages or snacks must be consumed and disposed of prior to entering the facility.
FAMILY EARLY ADMISSION PASSES
Graduates who are planning to attend Commencement in Pasadena should complete and submit the Family Early Admission Pass Request by May 1, 2019. There is no predetermined number of passes allocated per graduate. However, in order to ensure adequate and appropriate seating for the families of graduates, these passes will normally be available for family members only, and depending on the number of participating graduates this year, a limit may have to be imposed. Family Early Admission Passes will be available only through graduating students who will be participating in Commencement, and will only guarantee seating until 9:30 a.m. After that time no pass will be required, and any remaining seats (which may be limited) will be available to anyone on a first-come, first-served basis. PLEASE NOTE: Due to fire code regulations, balloons and strollers will not be permitted in the sanctuary. These items may be checked at the information station in the lobby.
Graduates must be in the designated student lineup room at Lake Avenue Church at 8:30 a.m. for robing and final instructions.
PARKING
Please see our downloadable parking map for your reference. 
Please note: The parking lot at Lake Avenue Church is NOT the primary parking location. Additionally, please do not park on the street or in other lots in the area of the church.
Lake Avenue parking is limited to:
graduates issued special LOT B parking passes (based on where they live)
anyone with official handicapped plates or placards (while specially marked spaces are available)
Please note: A Family Early Admission Pass is NOT a parking permit or pass, and by itself will not allow parking in the church parking lot.
FREE PARKING AND SHUTTLE SERVICE
We are pleased to provide free parking and free shuttle service from the parking garage at Gateway Plaza, 300 North Lake (enter from Mentor; see the map for directions). No parking pass is needed. Please allow a few extra minutes to park and use the shuttle.
DIRECTIONS TO GATEWAY PLAZA PARKING FROM 210 EAST
Take the Lake Avenue exit
Cross Lake Avenue
Turn right onto Mentor
Parking entrance is immediately on the right
DIRECTIONS TO GATEWAY PLAZA PARKING FROM 210 WEST
Take the Lake Avenue exit
Turn left onto Lake Avenue
Cross the 210 freeway. Stay in the left turn lane (but not the innermost left turn lane, which would take you back onto the freeway)
Turn left onto Corson at the light on the south side of the freeway
Turn right onto Mentor
Parking entrance is immediately on the right
CAMPUS PARKING
Free parking is also available on the Fuller campus on Commencement day. Lake Avenue Church is a short 10-15 minute walk from the Fuller campus. Spaces are limited.
GRAD GIFTS
DIPLOMA FRAMES
Customized diploma frames can be purchased online at any time from Herff-Jones.
RINGS
Fuller class rings with the official Fuller Theological Seminary seal are available for purchase online from Herff-Jones.
FLOWERS
We are pleased to offer traditional commencement leis and floral bouquets for our graduates, sold by Graduation Day Flowers. Flowers may be purchased on Commencement day on the patio of Lake Avenue Church, or can be pre-ordered and picked up in advance of the ceremony.
To pre-order flowers for your graduate, visit the Graduation Day Flowers website.
FULLER GIFTS AND COFFEE
Archives Bookstore will be on the patio of Lake Avenue Church on Commencement day with Fuller logo apparel, mugs, graduation gifts, and much more! Coffee, bottled water, and light breakfast snacks will also be available for purchase.
Please note that food and drink are not permitted inside the church building. Any beverages or snacks must be consumed and disposed of prior to entering the facility.
COMMENCEMENT PHOTOGRAPHY
Fuller is pleased to provide the services of GradImages to take professional individual photos as each graduate crosses the stage. Each graduate will receive free proofs (online and by mail) and the opportunity to order copies online shortly after Commencement.
In order to make the service enjoyable for everyone, all guests must remain in their seats during the Commencement ceremony, and may not stand in aisles or approach the stage to take photographs.
LIVE STREAMING
Fuller is pleased to announce that the 2019 Commencement Ceremony will be available for real-time viewing around the world. Friends and family who want to watch loved ones cross the stage can share in the moment via live internet stream on http://fuller.edu/commencement/
ACCOMMODATIONS
FULLER GUEST CENTER
Fuller's Guest Center has great rates, great rooms, and fantastic hospitality. With apartment-style rooms, Fuller Guest Center offers you the convenience of our location near campus with easy access to the charms and delights of beautiful Pasadena!
Call today for pricing and availability
626-204-1100 
1-800-235-2222 ext. 5545
GuestCenter.com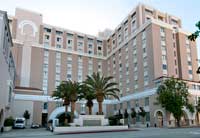 The Westin Pasadena 
191 North Los Robles
Pasadena, California 91101
Phone: (626) 792-2727
The Westin Pasadena corporate rate: $199/night in a Traditional Room
Reservations: made directly through Eric Salazar, at Eric.Salazar@westinpasadena.com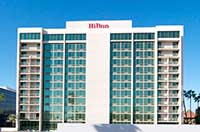 Hilton Pasadena
168 S Los Robles Ave
Pasadena, CA 91101
(626) 577-1000
Hilton Pasadena corporate rate: 10% off the lowest advertised rate
Reservations: made with our Corporate ID #2975411 Click to visit website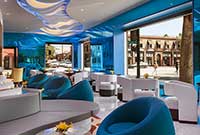 dusitD2 Constance Pasadena
928 E Colorado Blvd
Pasadena, CA 91106
Phone: (626) 898-7900
The corporate rate is $189/night in a Deluxe Room. Book online using code "FTS" or by following this link.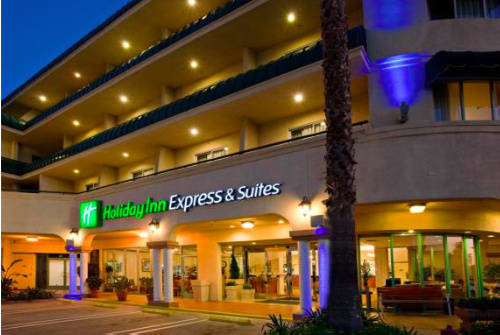 Holiday Inn Express & Suites
3500 East Colorado Blvd.
Pasadena, CA 91107
Phone (626) 792-1363
The Holiday Inn Express & Suites Commencement Package is $159 ~ $179 (single/double occupancy).
Booking Link: http://www.hiexpress.com
For additional lodging suggestions, view our downloadable Local Pasadena Lodging Options guide.
SIGHTS AND EATS
Download our guide to local restaurants, coffee shops, and art galleries in Pasadena and surrounding areas by clicking here.