FULLER STAFF, ALUMNI, AND STUDENTS DEMONSTRATE IN SOLIDARITY OVER RECENT INJUSTICE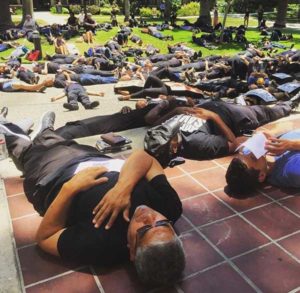 On Friday, July 8 at noon, over 100 students, alumni, staff, and faculty, dressed in black, walked to the center of Fuller Seminary's Pasadena campus and laid down on the ground in protest of the unjust deaths earlier in the week of Alton Sterling in Baton Rouge and Philando Castile in Minnesota. Organized by a small group of students, alumni, and Fuller's William E. Pannell Center for African American Church Studies, the "die-in" was a peaceful demonstration punctuated by readings, prayer, a song of lament, and a rallying cry from Pannell Center Director of Operations Jeanelle Austin.
"We need the church, we need the body of Christ, to stop being passive and silent as people who are made in the image of God are gunned down," she said, calling for the Fuller community and white evangelicals everywhere to lay down privilege so that the church can be the model of a reconciling community. "We must build off of our sorrow and create bridges of hope, healing, and restoration for the communities we serve. We must join in the work of justice and healing together—wherever we are in the world, and whatever our skin color may be."
As demonstrators lay on the ground, many held small placards with the photos and names of black men and women who have died from police violence or in police custody. MAICS student Ramel Dixon read a letter from Fuller student Derrick Wells, an African American policeman in Oakland: "We have to fight for social injustice for one another—not only in our communities, but in our brothers' and sisters' communities as well. We are supposed to walk alongside one another to restore what is broken and to trust Christ knowing that he has already created the path to walk down." 
For most of the hour the demonstration was silent, quietly witnessing to all who walked by the bodily cost of police violence in black communities. Also in attendance were members of Pasadena's police force as a sign of their own resolve to join the local community in seeking justice together. 
President Mark Labberton was unable to attend due to travel but praised the demonstration: "Our lament and sorrow, our repentance and resolve must show itself in actions that bring change—within Fuller and within the American church and society," he said. Seeing the Fuller community gather together in solidarity was a source of encouragement for attendee Dean of Students Steve Yamaguchi. "It expresses the heart of Fuller as I know it. We may be dispersed, but we are together on this—we will not be silent and we will not allow people to be erased."
Jonathan Stoner, member of Fuller's student spiritual formation team and one of the protest organizers, shared a prayer for the event that calls everyone, regardless of skin color or status, to work toward the goal of a reconciling community: "And so we pray to You, Source of Light and Life, open our eyes to see You in each other's eyes, to take greater risks for justice, to bring more Love and Compassion into the world through our unified prayers and public demonstrations."
Photos by Jonathan Stoner and Tamara McMahon