Cultivating Leadership for Multilingual, Intercultural, and Intergenerational Contexts
Application Deadline: January 26, 2024
Decisions Sent: February 16, 2024
Integrating three distinct interdisciplinary ecosystems (theology, missiology, and psychology) and offering a holistic vision of Christian formation (spiritual, academic, intercultural, vocational, emotional), this DMin cohort equips ministry leaders to lead multilingual, intercultural, and intergenerational ministries in a post-pandemic world. The goal of the formation process is to become a bold, empathetic, and truly integrated leader: "glocally" (globally + locally) aware, communally engaged, missionally resilient, and theologically imaginative.
This program offers a unique blend of academic rigor and practical training to equip emerging leaders and global influencers with the skills required to navigate the complexities of leading multilingual, intercultural, and intergenerational ministries. It provides a cutting-edge curriculum specifically designed to address the unique challenges and opportunities facing emerging leaders in today's rapidly changing world. By enrolling in this program, leaders will gain a competitive edge in their field and be better equipped to make a lasting impact in their communities.
Year One
BECOMING GLOCALLY AWARE (16 units)

Spring 2024 (6 units): Reading (Mar–Jun, online); in-person seminar (dates TBD, Chiapas, Mexico)
Summer 2024 (4 units): Academic Writing and Research (Jun–Sep, online)
Fall 2024 (6 units): Writing (Sep–Dec, online)
Leadership integration begins.
The first year is akin to planting a garden. Just as fertile soil is crucial for plants' healthy and enduring growth, the foundational year of doctoral ministry training is vital for the stability and longevity of Christian leadership. Participants acquire the necessary knowledge and skills to nurture spiritual formation, deepen biblical-theological acumen, develop intercultural competence, discern vocation, and foster emotional well-being through an integrated approach to formation. Engaging in various learning activities such as immersive field trips, cutting-edge literature reviews, critical thinking, profound conversations, spiritual formation, self-assessment, and thought-provoking lectures, students resemble cultivators who meticulously analyze the terrain, select appropriate materials, and employ effective cultivation techniques to ensure the strength and durability of their crops. Ultimately, the objective is to create a structure that is not only robust and fruitful but also aesthetically pleasing and inspiring to others.
Year Two
BECOMING COMMUNALLY ENGAGED AND MISSIONALLY RESILIENT (16 Units)
Spring 2025 (6 units): Reading (Mar–Jun, online); in-person seminar (dates and location TBD)
Summer 2025 (4 units): Academic Writing and Research (Jun–Sep; hybrid)
Fall 2025 (6 units): Writing (Sep–Dec, online)
Communal identity solidifies and intercultural/intergenerational competence develops.
Year 2 finds students tending their garden, cultivating the growth of their self- and global awareness. Through communal engagement and intentional reflection, they nurture resilient and mission-oriented approaches to leadership. Just as a garden's walls and structure provide a framework for the plants to thrive, biblical frameworks and missional resilience models offer a guiding framework for participants to meaningfully engage with their communities to foster healing and promote shalom. Drawing inspiration from biblical narratives such as Luke 10, participants cultivate strategic alliances and practice active listening, addressing pertinent questions about neighborly relationships and embracing a Missio Dei–centered ministry. Through this year of training, participants are developing relational acumen for multilingual, intercultural, and intergenerational leadership.
Year Three
BECOMING THEOLOGICALLY IMAGINATIVE (16 Units)
Spring 2026 (6 units): Reading (Mar–Jun, online); in-person seminar (dates TBD, Pasadena)
Summer 2026 (6 units): Academic Writing and Research (Jun–Sep, online)
Fall 2026 (4 units): Doctoral Project Writing (Sep–Dec, online)
Missio Dei discernment and innovation pull us forward to make a lasting impact.
Student-led communities take the shape of well-tended gardens, stable and enduring yet hospitable and fruitful, cared for by the Spirit of God (Galatians 5:22-26). Year 3 invites a period of creative exploration and prophetic imagination, where participants transition from cultivating mission resilience to unleashing their ecclesial imagination as a transformative agent of healing and hope. In the aftermath of the pandemic, participants are called to move beyond resistance to cultivate a sense of re-existence, exploring alternative ways of being community and engaging in ministry. They are summoned to bear witness to Jesus in the public sphere and counteract cultural arrogance through the prophetic imagination of the Incarnate Jesus, empowered by the Spirit. The ultimate aim is to discern the contours of a multilingual, intercultural, and intergenerational ministry that is fueled by biblical inspiration, shaped by contextual innovation, and grounded in emotional well-being. This phase demands deep engagement with scripture, theology, and missiology and culminates in the final project, in which participants are expected to advance a comprehensive vision for their ministry that is rooted in the prophetic imagination of Jesus and informed by their unique context and experiences.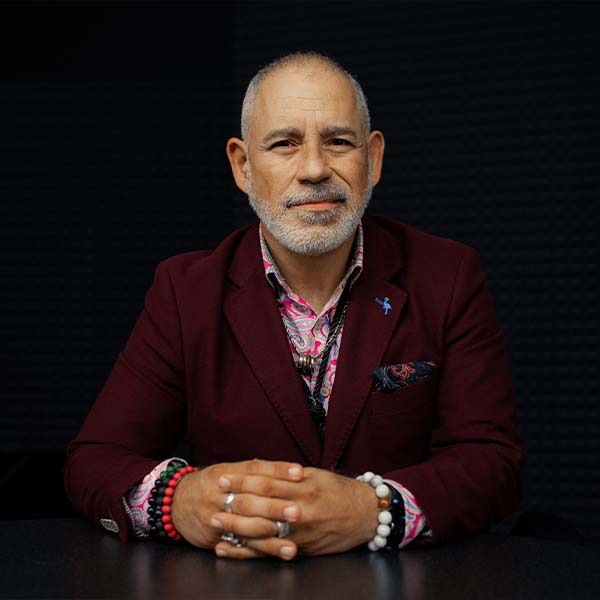 Oscar García-Johnson is a renowned academic, experienced pastoral leader, and recognized innovator in millennial-focused global theological education. His tenure at Fuller includes pivotal roles as chief of diversity, equity, and inclusion (2021–2023) and associate dean for the Center for the Study of Hispanic Church and Community (2015–2021). He is currently professor of theology and Latino/a studies.
García-Johnson's eclectic educational background spans a PhD in theology and an MAT in biblical studies from Fuller, philosophy at University of La Verne, engineering at Universidad Nacional Autónoma de Honduras, and mortgage banking courses. As a diasporic scholar of the Global South, his contributions to theology and intercultural studies have been transformative. His works include the multivolume series Nuevo Mundo Theology (2022 –) and incisive explorations of decolonial epistemologies and trans-occidental hermeneutics in Spirit Outside the Gate (2019) and Theology Without Borders (2015). His proposal for a "commuting" practical theology of the Spirit for the urban pastor in The Mestizo/a Community of the Spirit (2009) continues to provide a basis for ecclesial imagination from the margins.
Beyond academia, Dr. García-Johnson leverages denominational leadership and church-planting experience to provide unique insights into the dynamics of contemporary multilingual ministry. His international collaborations have advanced theological education across Latin America, Africa, Asia, and the US.
An advocate of decolonial approaches, Dr. García-Johnson nurtures an enriched, intergenerational learning environment that embraces millennial insights and promotes inclusive theological discourse. His expertise in intercultural and multilingual education underscores his commitment to guiding students toward effective global ministry. His leadership cultivates glocal awareness, fosters cultural sensitivity, and sparks contextual innovation for impactful ministry.
Learn More and Connect with an Admissions Counselor
Office Hours
Monday – Friday
8 am – 5 pm (Pacific Time)
To view in-person welcome center hours for Pasadena, Arizona and Houston, click here.