Academic Dean for the Center for Asian American Theology and Ministry, Associate Professor of Theology and Asian American Studies
BS, University of Virginia
MDiv, Princeton Theological Seminary
ThM, Fuller Theological Seminary
PhD, Fuller Theological Seminary
TM528: Asian American Identity and Ministry
ST544: Asian and Asian American Theologies
ST505: Systematic Theology: Trinity, Revelation, and Salvation
TH545: Theology of Grace
Karl Barth, contextuality, Asian American theology, systematic and constructive theology, integration of theology and psychology, theology of cultural representation, theology of trauma, theology and culture, missional church, theology of family
"In Christ, God turns his face toward us and calls us in our embodiedness—in our embodied flesh with our race, ethnicity, gender, and class. Who we are, where we're from—all of that matters, and that is where God meets us."
+
Dr. Lee, in his sermon on navigating the gospel, the body, and the Asian American experience, available here.
Daniel D. Lee is the founding Academic Dean of Fuller's Center for Asian American Theology and Ministry. Serving in various leadership roles since 2010, he has been the key force behind the Center and the Asian American Initiative before that. He has also taught theology and Asian American studies at Fuller since 2015.
Dr. Lee's research areas focus on the Reformed tradition and contextual theologies, and he brings broad ministry experience to his work. An ordained minister in the Presbyterian Church (USA), he has served in pastoral roles in both New Jersey and Southern California. He was previously a chaplain and, for several years, a campus ministry staff member for Servants Ministry in Virginia.
Lee is author of Doing Asian American Theology: A Contextual Framework for Faith and Practice (2022) and Double Particularity: Karl Barth, Contextuality, and Asian American Theology (2017), as well as the editor of The Theology of Asian Americans and Pacific Peoples: A Reader, 1976, complied by Roy Sano (2023). He is a member of the Association for Asian American Studies, Asian American Psychological Association, American Academy of Religion, and Karl Barth Society of North America.
Download Lee's CV, which includes a list of his publications, here.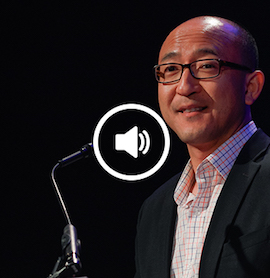 Director Daniel Lee talks with the National Association of Evangelicals on identity, cultural contexts, diversity, and more