Travis Auditorium, the largest lecture hall on the Pasadena campus, was the first classroom on campus designed specifically for public forums. The auditor­ium is named for Lee Edward Travis, the first dean of the School of Psychology. For many years, the auditorium has hosted lecture series, dramatic performances, chapel, film screenings, concerts, and even an annual comedy and talent show called Fuller Follies.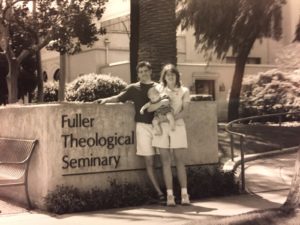 "I was only on campus for a short time over 25 years ago, to finish my MDiv––most of which I completed through the IYM (with all thanks to Will Stoller-Lee and Terry McGonigal) before Fuller had satellite campuses.
My memory is a vivid one. It was a few days after the Northridge earthquake. I was 28, from Washington DC, and had never experienced one. I remember sitting in an auditorium with Ray Anderson teaching us theology. When an aftershock trembled the cement floor beneath us, my friends sitting in the chairs next to me went running out of the building. I didn't know why. I later found out one friend didn't even come to class that week and had spent all week sleeping in a tent in his front yard––he was too scared to go inside. It taught me a lesson and gave new meaning to Psalm 16. Fortunately, I also remember learning from Marianne Meye Thompson and Ian Pitt-Watson and Judith Volf that year. I remember being publicly vindicated by a professor during a smaller lecture, when another student starting preaching on why women shouldn't be pastors. The months there were few but formative. Thank you Fuller."
—Allison Jones Lundeen (MDiv '94)
As you share your memory, be as specific as possible: What building were you in? Who were you with? What geographic details still stick with you today? The more concrete and descriptive the memory you share, the more the Fuller community can enjoy this moment with you.