Fuller's Campus Move from Pasadena
In May 2018, after much deliberation, Fuller's Board of Trustees confirmed the decision to sell the seminary's historic Pasadena campus and move to Pomona. Here, read past and present updates from Fuller leadership regarding this momentous change.
In this letter, Mark Labberton outlines a historic new dean structure for the Schools of Theology and Intercultural Studies.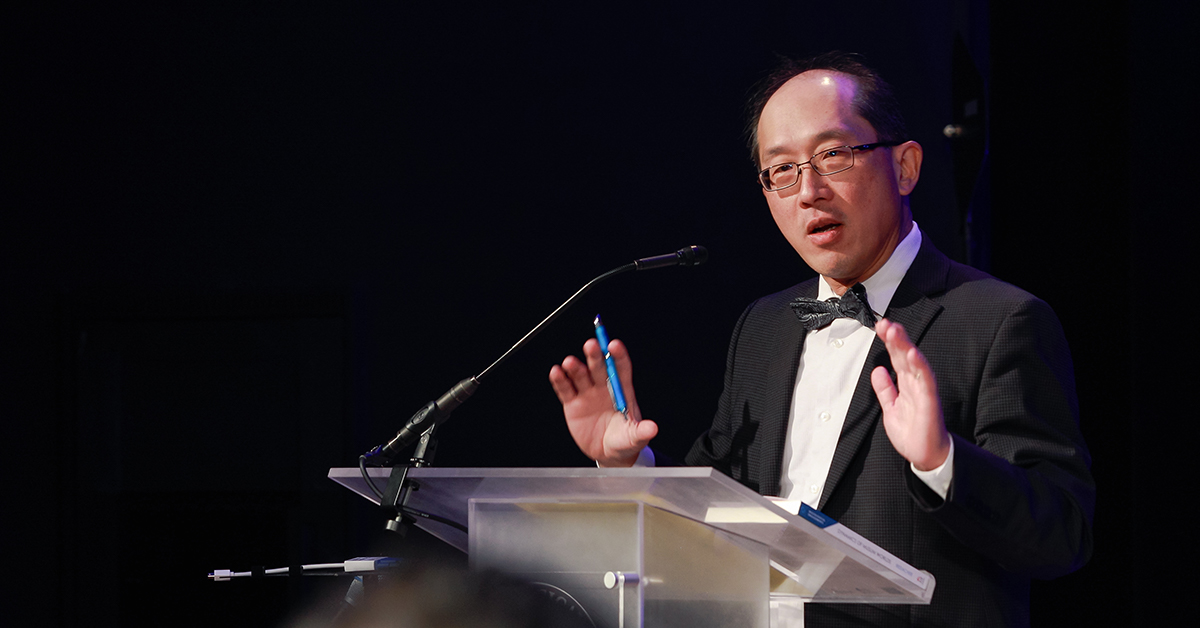 Speaking from the David Allan Hubbard Library balcony on Fuller's Pasadena campus, President Mark Labberton first publicly announces the board's historic decision, made just the day before, to relocate the seminary—a bold move that will help Fuller retool for a thriving future of expanded theological education.
From Pomona: May 24, 2018
Speaking from the iconic pedestrian bridge in downtown Pomona just after attending the city's Mayor's Prayer Breakfast—where Fuller's relocation was announced and enthusiastically welcomed—President Labberton discusses how Fuller is entering, along with the city of Pomona, a journey of transformation.
Leaning Into the Whirlwind
President Labberton discusses what relocation means for the future of Fuller and broadening the seminary's offerings.
"The graduate theological education I received at Fuller was absolutely life-changing. It prepared me for ministry as a speaker, author, thought leader, and professor of Reconciliation Studies. I am confident that Fuller will continue to prepare men and women from every tribe and nation to address the complex issues facing our world."
—Rev. Dr. Brenda Salter McNeil
Associate Professor and Director of Reconciliation Studies
Seattle Pacific University
"As I travel and relate to leaders throughout North America and the majority world, my conviction has only strengthened regarding Fuller Seminary—it truly is one of the world's premier institutions in developing leaders for the church. Fuller not only forms students with the truths, values, and character of Christ, but it embodies these things as an institution. I am excited about Fuller's future, as it continually innovates to launch future generations of leaders and effective Christlike witnesses in a fast-changing and increasingly globalized world."
—Tom Lin, President/CEO
InterVarsity Christian Fellowship
Fuller trustee and alumnus
"My first exposure to Fuller was as a visiting professor while I was a faculty member at Calvin College. On one of my visits, the president of Fuller at the time—David Allan Hubbard—spoke about the 'beyond' of Fuller. Fuller existed beyond the mission of academia, beyond the limits of a graduate education. Fuller exists to advance the mission of God across the world. That was when I knew Fuller was a community I wanted to be a part of, and have loved serving for over 30 years. Fuller's relocation is to continue the legacy of beyond."
—Richard J. Mouw
Professor of Faith and Public Life and President Emeritus (1993–2013)
"When I was invited to come to California to join the Fuller faculty, I knew that it was a body of unequaled evangelical scholarship with a mission to shape ministers and missionaries and theologians for the 21st century. I didn't realize how important the work is that Fuller also does in resourcing people to be therapists or musicians or movie-makers who are not merely Christian on Sundays, but who want their Monday to Saturday vocations to be shaped by the Scriptures. I am thrilled to be engaged in this important work."
—John Goldingay, PhD
David Allan Hubbard Professor of Old Testament Emeritus
"As CEO of one of the great high-tech innovative companies, I live daily in the need to innovate or die. Fuller has constantly sought to bring an innovative spirit and deep theological scholarship as it equips influencers of all kinds. Fuller has always known how to adapt to shifting needs without losing its biblical grounding—shaping the kinds of courageous, innovative, and faithful evangelical leaders we're going to need more than ever."
—Pat Gelsinger
CEO of VMware
"Fuller's educational ministry centers not only on academic excellence but also obedient discipleship, evident in the ways its programs and centers engage with issues pertinent to the church, culture, and society. What's more, because of its commitment to God's kingdom, Fuller relates to younger and smaller seminaries from around the world with both generosity and humility."
–Elizabeth Sendek
President, Biblical Seminary of Colombia
Medellin, Colombia
"Fuller continues to be top on the list of seminaries of choice for quality, thoughtful, Christ-centered, transformational leadership and ministerial formation for those of us from the Global South. This is evidenced in the quality of its alumni as they lead and serve in diverse churches and institutions around the world, something I have seen firsthand as I have served with some in my life and work in Africa. Fuller has a track record of being both locally and globally engaged, and I am gratified to see intentional efforts to remain on the cutting edge: walking the talk of being evangelically inclusive, not being afraid to ask hard questions, pushing boundaries, and exploring new ideas. I thank God for Fuller!
—Bishop Zac Niringiye

Sign Up for Updates
Share your thoughts with us here, and sign up for updates about Fuller's future.