The first building to be constructed on the campus, Payton Hall bears the name of Grace Payton Fuller, wife of seminary founder Charles E. Fuller. When it opened for classes in the fall of 1953, it initially served as an administration building, classroom, and cafeteria for the seminary, and for decades, graduating students have taken photos on the steps under its iconic arches. The building's largest room, Payton 101, has housed a vast number of lectures and classes (allegedly including the controversial MC510:Signs and Wonders classes in the 1980s), commencements, chapel, art shows, concerts, and more.
"In June 2012, the 50th anniversary of my graduation, I stood on the steps of the Payton building at the exact spot where, 50 years before, our class of '62 had all stood in caps and gowns with Charles E. Fuller and the Fuller Seminary faculty for our graduation photo. My wife, Renske, and I were in Southern California visiting family and friends, and I had spent that morning at the seminary exploring the latest developments on campus and reminiscing about the 'good old days.' It hardly seemed possible that I had first set foot on Fuller's campus almost 53 years before. I first heard of Charles E. Fuller when I was a boy. My grandmother, Tille VanderBerg, used to listen to his Old Fashioned Revival Hour radio program on Sunday afternoons. I remember singing 'Heavenly Sunshine' along with the broadcast audience and hearing Mrs. Fuller read letters from listeners around the country. The broadcast initiated in California, which to me in those days seemed like someplace on the other side of the world. Little did I dream then that just 14 years later, I would become a student at Fuller Theological Seminary in Pasadena, California—a school founded by, and named for, Charles E. Fuller."
—Wendell (BD '62)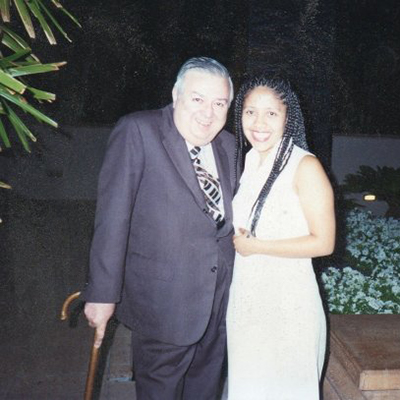 "It was February 2002. I was stretched thin for cash, as is the common denominator for all theology students I think, and needed to bite the bullet and call home for some funds to cover my registration fees. I went into Payton to use the phone booth to call my dad. I loved those plush phone booths, because they were vintage and felt like a nod to past decades. Plus, that day I really needed the privacy of a closed door to have this pathetic little talk with my dad. We had the usual "so what is this money for" conversation and, as per usual, he came through with the funding. I thanked him, told him, "Te quiero," and rather than say "Ciao," like we normally would, I very randomly said, "Adios." I didn't know then that that would be the last conversation I had with my father. He died suddenly a day later of an aneurysm. In saying, "Adios," I had both said goodbye and commended him to God––I just didn't know that last bit. This has become a tender memory, a final time of me being in need and him coming to my rescue, as he had a million times before, from when he adopted me at 3 months old until that day at 29 years old. I'll always cherish the Fuller Pasadena campus and the many memories that I made there, but Payton Hall's row of vintage phone booths, that common space turned sacred by what God did there, will always hold an extra special place in my heart."
—Andrea Cammarota ('02)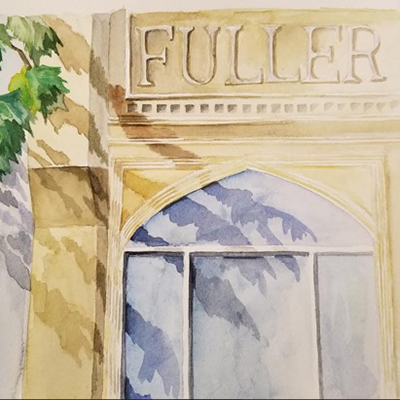 "Payton was the place of God's feast and the place of embracement ever since the chapel was held there. Especially, as a foreigner and as a single mom in the U.S., it was a place of his promise and comfort. Most of the time in chapel, I was so desperate for his mercy and he gently embraced me.
I have been blessed through Fuller. The most precious part of the Fuller community is the people I interact with. While I was a student, resident, and staff, I was able to meet the most beautiful people who are on the road with the same hearts for the people and nations. Fuller is like an oasis that provides resources, laughter, challenges, and goals on my long journey through the desert.
This particular piece of art reminds me of the various moments that I experienced at Fuller as a foreigner and as an international student. The name of Fuller always included me and embraced me. I want to remember this place and share my moments at Fuller that was like warm sunlight and lazy shadows. The shadows signify his grace gently coming down and taking place in our everyday life."
—Wonjoo Chung ('03)
As you share your memory, be as specific as possible: What building were you in? Who were you with? What geographic details still stick with you today? The more concrete and descriptive the memory you share, the more the Fuller community can enjoy this moment with you.