우리는 현 세계가 리더들과 변화를 가져오는 사람들로부터 필요로 하는 것에 적응함으로써 풀러에서의 신학교육 경험을 재정의하고 있습니다. 새롭게 개편된 학위 프로그램은 학생들에게 풀러의 학문적 엄밀함을 바탕으로 한 실습 중심의 교육을 제공합니다. 또한 디지털 플랫폼인 FULLER Equip은 비영리 단체와 교회가 풀러 전문가들이 선별한 리더십 형성 교육을 사역자와 회중에게 제공할 수 있도록 돕습니다. 이 과정에서 우리는 교회와 복음을 절실히 필요로 하는 세상에 예수님의 복된 소식을 전하는 방법을 창의적으로 재고하고, 다양한 소명을 통해 선한 영향력을 미칠 수 있는 전인적인 지도자를 형성하기 위해 다 같이 노력하고 있습니다. 우리는 전통적인 캠퍼스 모델을 재구상하여 풀러를 완전히 바꾸고 학생과 학습자가 자신이 속한 환경에서 풀러 교육에 참여할 수 있는 글로벌 학습 커뮤니티를 구축하고 있습니다.
학위 프로그램
신학, 심리학, 결혼 및 가족치료학, 선교학, 성서학을 포함한 다양한 분야의 석사 학위 및 박사 학위 프로그램을 살펴보십시오.
평생 학습
풀러 교수진과 전문가들이 구성한 교과목을 제공하는 디지털 학습 플랫폼인 FULLER Equip에 대해 알아보십시오. 교회와 비영리 단체는 FULLER Equip과 파트너 관계를 맺어 교인과 사역자에게 평생 교육 및 전문성 개발의 기회를 제공할 수 있습니다.
무료 자료
마크 래버튼(Mark Labberton) 총장과 함께 하는 대화형 팟캐스트와 교회 및 소그룹에서 사용할 수 있는 무료 비디오를 포함하여 깊이 형성된 영적 삶을 위한 자료를 이용할 수 있습니다.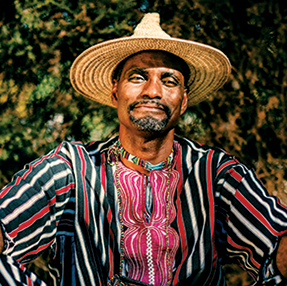 "People have stories to share and things to say, if we will only create space for them . . . talking about art and culture can be one way to start conversations and find common ground."
Drawing on his lifelong love for music, Daniel Dama (MAICS '14) uses the arts to share his faith with others across West Africa. Read his story on FULLER studio.
"The reality is, if you're not intentional about including certain folks, then you're excluding them."
Bethany McKinney Fox (PhD '14) is the founder and pastor of Beloved Everybody, a church for people with and without disabilities. Read her story on FULLER studio.