Senior Administration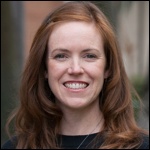 BERNADETTE J. "BJ" O'Halloran, MSOD
Chief of Human Resources and Organizational Development
Bernadette "BJ" O'Halloran has served Fuller Seminary as the executive director of Human Resources and organizational development since 2011, having worked in Fuller's Office of Human Resources since 2003. She previously worked in human resources at a Bay Area strategic marketing and design firm that served Silicon Valley technology clients.
O'Halloran is an active member of the College and University Professional Association for Human Resources (CUPA-HR), Professionals in Human Resources Association (PIHRA, a Southern California HR organization), and the Society for Human Resource Management (SHRM, a nationwide HR organization), and has presented at CUPA-HR and PIHRA conferences.
She holds a Master of Science in Organization Development (MSOD) from Graziadio School of Business and Management at Pepperdine University. Her master's thesis draws on experience utilizing a much-appreciated leadership expertise with Fuller offices and personnel: "Lean and Its Impact on Employee Empowerment within a Higher Education Institution." In addition, she earned a Senior Professional in Human Resources (SPHR) certificate from the HR Certification Institute, and has taken five courses at Fuller: two in Menlo Park prior to working at Fuller and three in Pasadena.
Contact: bjohalloran@fuller.edu