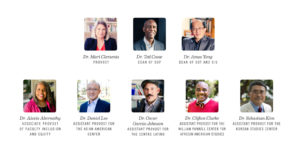 Significant appointments have been made in Fuller's senior academic leadership since June 2018. Roles have been created, reorganized, and filled to strengthen Fuller for the future as an evangelical graduate school and seminary. Beginning in a season with an unusual number of openings at the senior level of academic leadership, changes began with immediate interim appointments of Dr. Marianne Meye Thompson as dean of the School of Theology (SOT), Dr. Peter Lim as the dean of the School of Intercultural Studies (SIS), Dr. Mari Clements as the acting provost, and the appointment of Dr. Alexis Abernethy in a newly created role: Associate Provost of Faculty Inclusion and Equity, a position devoted to creating more strategic and comprehensive change regarding inclusion and equity at Fuller. Fuller's debt to these leaders for their devoted service while we worked together toward goals of inclusion and equity is incalculable.
In January 2019, Dr. Clements was named the ninth provost of Fuller Theological Seminary. She is the first woman to occupy the role in Fuller's history. Beginning July 1, 2019, Dr. Amos Yong will be the first dean over both the School of Theology and the School of Intercultural Studies. This reorganization will foster new levels of integration between SOT and SIS and an increased ability to respond to the diverse needs of students seeking degrees in theology and intercultural studies. In January 2019, Dr. Ted Cosse, executive director of Fuller Psychological and Family Services, was selected as dean of the School of Psychology. Dr. Cosse is the second African American to hold the position, following Dr. Winston Gooden. And, as mentioned above, Dr. Abernethy was appointed to the new faculty inclusion and equity associate provost role in July 2018.
In addition, the directors of Fuller's ethnic centers—Dr. Daniel Lee of the Asian American Center; Dr. Oscar García-Johnson of the Centro Latino; Dr. Sebastian Kim of the Korean Studies Center; and Dr. Clifton Clarke of the William Pannell Center for African American Church Studies—have each been elevated to the position of assistant provost. This status change will give the center directors, and the peoples under their care, unprecedented and guaranteed representation at some of the highest levels of institutional authority, including as full members of the President's Council.
Together, these shifts mark substantial changes in diversity, both in terms of race and gender, of Fuller's senior academic leadership. In concert, these appointments increase the potential for Fuller to live into its call to welcome and equip God's people, from many backgrounds and experiences, for kingdom vocations.