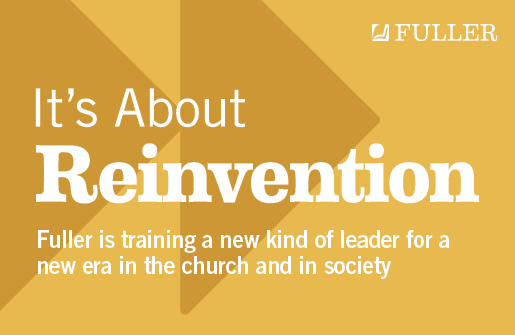 Fuller Seminary President Mark Labberton announced today FULLER NEXT, a new strategic initiative that reinforces the seminary's commitment to partnering with churches and organizations around the globe in creatively rethinking a church in urgent need of reinvention.
"The work of Christian ministry necessarily involves innovation because that's life itself," said President Labberton. "We are doing what Fuller has always sought to do, but in ways that allow us to turn ourselves inside out, even more towards the church, cultures, the public square, and the entire globe."
Most notably, FULLER NEXT will introduce new and refreshed degree programs, a digital learning platform offering courses for professional development, and greater flexibility as a result of departing from the traditional campus model.
Guided by the core tenets of the FULLER NEXT strategy, Fuller Seminary aims to provide indispensable, formational education for diverse Christian leaders everywhere. By listening afresh to the needs of students, learners, and the church today, Fuller is creating new degrees and rebuilding its flagship programs to provide practice-focused education that is rooted in the seminary's historically excellent academics. For example, the new MA in Justice and Advocacy offers innovative training and a supportive network for change agents who are already working in the field.
Additionally, a new focus on emotional and professional formation will complement traditional spiritual and academic formation to produce holistically prepared graduates. Such formation extends to a group Fuller has coined as "learners"—leaders and other individuals seeking non-degreed offerings through Fuller's centers for innovation like the Fuller Youth Institute, as well as through FULLER Equip, the seminary's signature digital learning platform. Nonprofit organizations and churches may partner with FULLER Equip to offer formational leadership training to their congregants or employees, including the option to earn professional certificates.
Fuller is also reimagining the traditional campus model as part of FULLER NEXT, extending the reach of its programs through innovative online modalities that allow students to earn a Fuller degree without leaving their unique contexts. Such decentralization also contributes to the seminary's commitment to building a global learning community.
"In Fuller's next season, we're focusing on some of the country's most diverse geographic areas, with arguably the most diverse faculty and the most diverse student body of any major seminary, supported by resources such as our five ethnic centers," said Chief Operating Officer Ted Cosse. "But we're also targeting learners around the globe. In all cases, FULLER NEXT provides greater flexibility to allow students and learners to access our resources while continuing to serve in their communities, churches, and jobs."
While Fuller will continue to operate out of its headquarters in Pasadena, California, where some hybrid in-person programs will take place, the seminary is also renewing its focus on Fuller Texas, its campus in Houston, as well as cultivating partnerships in that region. Some hybrid and online degree programs will meet for intensives in other cities around the globe.
For more information, visit Fuller.edu/Next.