APA Names Alexis Abernethy Citizen Psychologist
Fuller is thrilled to announce that Alexis Abernethy, associate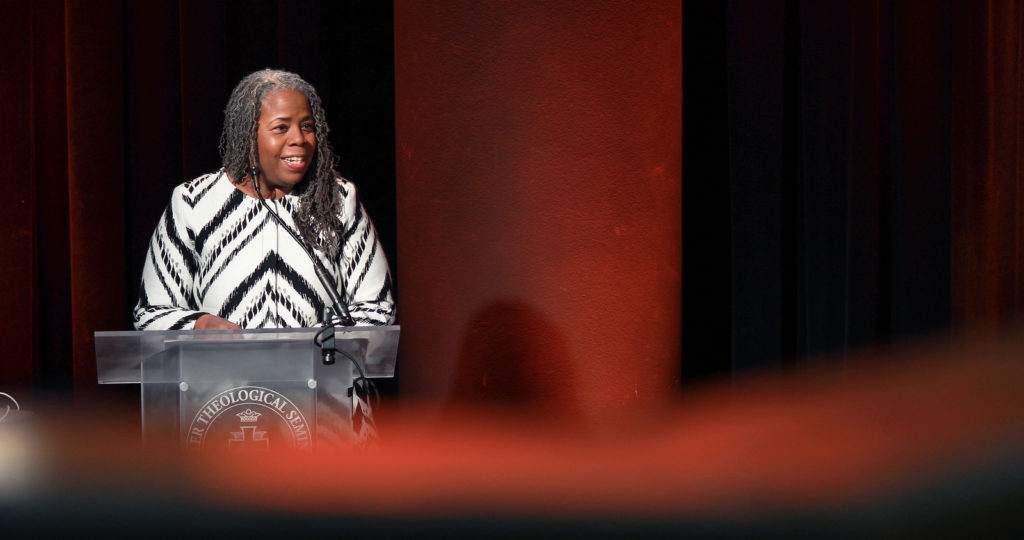 provost for faculty inclusion and equity and professor of psychology, was named a 2018 Citizen Psychologist by the American Psychological Association (APA). The Citizen Psychologist award is given to exemplary psychologists who go above and beyond in leading and serving in their communities.
"I am exceptionally proud of my friend and colleague Dr. Alexis Abernethy and the well-deserved recognition of her contributions that this award represents," said Provost Mari Clements. "Her groundbreaking work has changed the lives of so many and she has led the way in fostering inclusive excellence across the entire seminary as she brings rare passion and sensitivity to truly critical issues. We are blessed to have her at Fuller, and I am deeply glad that the American Psychological Association has recognized her work in this way."
Abernethy was nominated by a group of nearly one dozen friends, colleagues, and mentees who described her as "abundantly exemplifying the characteristics of a Citizen Psychologist through her life, career, and service to the community and to professional organizations." The group, noting they could not describe Abernethy's qualifications in only 5,000 characters, compiled 11 letters of support to include with her nomination. A former PhD student noted Abernethy's crucial role with African American students in the School of Psychology. "Dr. Abernethy has used her unique position to encourage and help sustain students of all ethnic and racial backgrounds in the doctoral program," she said. "She also creates 'safe spaces' each quarter through a Students of African Descent lunch in her home for current and former students. These lunches have helped us further explore and navigate the challenges that arise professionally and personally as we exist in spaces where our identities are often marginalized."
"Dr. Abernethy has been a wonderful and effective mentor to our students," said Ted Cosse, dean of the School of Psychology. "She uses her experience and influence to support and sustain students of all cultural, ethnic, and racial backgrounds. Her commitment to serve others, both locally and nationally, serves as a model for all, and we are very fortunate and blessed to have her on our faculty."
Commenting on her selection as a Citizen Psychologist, the APA noted Abernethy's commitment to her community: "Dr. Abernethy actively responded to the unique ways that religious communities in New Orleans were impacted in the months and years following Hurricane Katrina. Religious leaders faced the challenge of assisting their congregations in the adjustment following devastation and mass displacement in their city. Dr. Abernethy proactively engaged key New Orleans religious leaders to solicit their needs. In response to an invitation by Fuller Theological Seminary's President and with the support of the Provost's Office, she raised the requisite funds and coalesced a core team of psychologists and a theology faculty member to develop and implement a research-informed, three-year support project that focused on resilience development for clergy and their spouses. Along with serving pastors in New Orleans experiencing burnout in the aftermath of Hurricane Katrina, Dr. Abernethy's research and consultation served African American men at risk for prostate cancer, Latina and African American breast cancer survivors, residents in the Bahamas, group therapists in China, and many other populations."
Please join us in congratulating Dr. Abernethy for this well-deserved award!
Resources from Alexis Abernethy