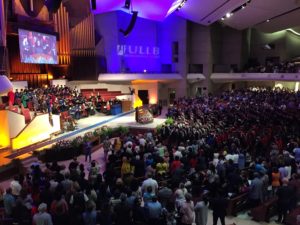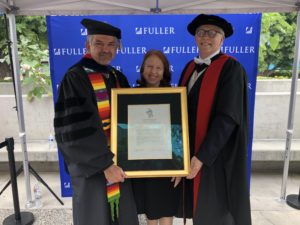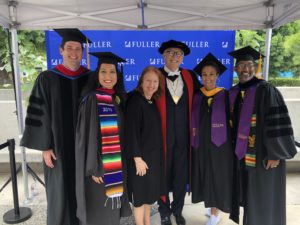 The main sanctuary of Lake Avenue Church was filled to capacity on June 15 as  students, staff, faculty, family, and friends gathered for an historic occasion—Fuller's 70th commencement ceremony.
Ed Willmington, composer-in-residence and director of the Fred Bock Institute of Music at Fuller, conducted the organ and brass ensemble that ushered in the graduating students and faculty. Fuller chapel leader September Penn led the congregation and Fuller chapel team in praise for God's faithfulness in the lives of the graduates.
President Mark Labberton delivered the charge to the graduating class. Reflecting on Paul's letter to the church in Philippi, Dr. Labberton exhorted the graduates to enact justice, hope, and resistance in the world as they leave Fuller. "Evangelicalism has often focused on the past and on the dream and hope of a future, but has failed to address the present," said Labberton. "You are called to be a witness to God's justice, love, and mercy today in whatever you do. I encourage you to press on. Part of pressing on means to resist and address the wrongs in this world. The God who was with you here will be the God who is with you there."
The commencement ceremony also featured four student interviews representing each of Fuller's three schools—Dwight Radcliff  (PhD, School of Intercultural Studies), Jasmine White (MSMFT, School of Psychology), Ines Velasquez-McBryde (MDiv, School of Theology), and Matthew Robbins (DMin, School of Theology)—who discussed their experiences at Fuller, their growing sense of calling while attending Fuller, and their plans after graduation.
The ceremony celebrated 678 graduates from Fuller's three schools—148 from the School of Intercultural Studies, 92 from the School of Psychology, and 438 from the School of Theology—a graduating class that represents 14 degree programs and 38 countries.
Fuller is proud of its graduates and this momentous commencement. We pray for them as they go out in service as global leaders in kingdom vocations. Congratulations, class of 2019!