Fuller Seminary Receives Grant for Muslim-Christian Research
Fuller Seminary is pleased to announce that it has received a grant from the Templeton Religion Trust to conduct research into Muslim and Christian approaches to deep political and religious difference. Matthew Kaemingk and Shadi Hamid will lead the project within Fuller's newly-established Mouw Institute of Faith and Public Life.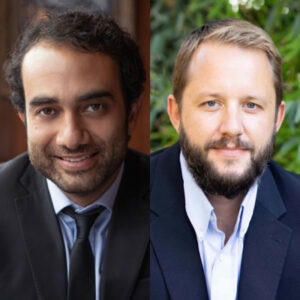 Shadi Hamid, a senior fellow at the Brookings Institution and contributing writer at The Atlantic, will be joining Fuller to co-lead the research project as assistant research professor of Islamic studies. This will be the first time in the seminary's 75-year history that the school has formally invited a Muslim scholar to co-lead a collaborative research project.
The $234,000 grant is funded through the Templeton Religion Trust's Covenantal Pluralism Initiative, which aims to promote religious freedom and literacy as well as the virtues of interfaith engagement across deep religious differences. The goal is to cultivate new forms of multifaith interaction that move beyond mere tolerance into deeper forms of substantive and meaningful exchange.
Together Dr. Hamid and Dr. Kaemingk plan to produce a groundbreaking co-authored book as well as a series of public dialogues exploring Muslim and Christian approaches to deep public difference. In all, these generative interactions will reveal profound theological resources for 21st-century citizens of faith.
Amos Yong, dean of the School of Mission and Theology, said, "This project springs off Dr. Kaemingk's groundbreaking Christian Hospitality and Muslim Immigration in an Age of Fear, which continues to engage contemporary questions and concerns in colleges, universities, and churches across North America and beyond. We are delighted that he will get to multiply his efforts with Dr. Hamid and are eager to welcome the fruit of their collaboration."
"The relationship between Islam and Christianity is surely a matter of global concern," said Fuller Seminary President Mark Labberton. "This exciting project represents an important new chapter in Fuller's long history of scholarly engagement with Islam. We're all looking forward to the generative research and discussions that will emerge from the collaboration between Matthew Kaemingk and Shadi Hamid."
Hamid, an expert on Islam's role in contemporary politics, is a leading voice on the need to rethink religion's role in public life. He is the author and editor of four books, including Islamic Exceptionalism: How the Struggle Over Islam is Reshaping the World, which was shortlisted for the 2017 Lionel Gelber Prize for best book on foreign affairs. In 2019, Hamid was named one of the world's top 50 thinkers by Prospect magazine.
Kaemingk, a public theologian and executive director of Fuller's Mouw Institute of Faith and Public Life, is the author of Christian Hospitality and Muslim Immigration in an Age of Fear, which was named a best book of the year by Christianity Today in 2018. In 2020 he was named the "Emerging Public Intellectual of the Year" by a coalition of Christian think tanks and universities.
"Dr. Hamid is not only a world-class scholar," remarked Kaemingk, "he's also deeply committed to his Islamic faith. While there are important differences between us, as a committed Christian, I'm looking forward to working at his side as we explore how our distinct faiths wrestle with these issues of deep religious and political difference."
"I'm thrilled to be joining Fuller Seminary, one of America's oldest and most important evangelical institutions," said Hamid. "In a time of increasing secularization and fragmentation, there is an urgent need for Christians and Muslims to think creatively about what religion can teach us about living with deep difference. We are not the same. Matthew and I have profound theological differences, but we don't consider our differences to be a bug in our work. We consider them a feature."
Learn more about Fuller's Mouw Institute of Faith and Public Life, which launched in the summer of 2021.