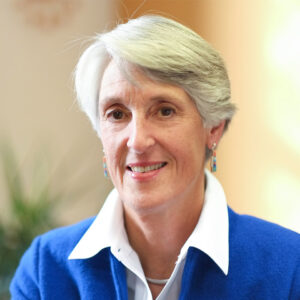 Fuller Theological Seminary is proud to announce that Trustee Jody Vanderwel has been recognized for her contribution to the startup scene in Michigan. In addition to serving on Fuller's Board of Trustees, Vanderwel chaired the Priority Health board of directors from 2011-2015. She also served as President of Grand Angels, an angel investing group in Grand Rapids, Michigan, for 12 years. Under her leadership, Grand Angels became the largest angel investing group in Michigan and one of the most active in the Midwest. Vanderwel's leadership is credited with professionalizing the organization and creating venture capital funds and affiliated angel groups across the state. She was recently honored with the 2023 MiBiz West Michigan Dealmaker Hall of Fame Award.
"Jody Vanderwel has been an influential leader in the startup community in Michigan for many years. Her work with Grand Angels has provided countless opportunities for young companies and entrepreneurs to succeed," said David Emmanuel Goatley, President of Fuller Theological Seminary. "We are proud to have her on our board of trustees and offer our congratulations on this well-deserved recognition."
Chuck Stoddard, one of the five founders of Grand Angels, praised Vanderwel's leadership, saying, "It wouldn't be where it is today without her solid leadership." Mike Jandernoa, another founder, credited Vanderwel's leadership with bringing momentum to the group, expanding the organization, and creating a small venture capital fund.
Reflecting on her time at Grand Angels, Vanderwel said, "It was something new, something I had never done before. I could see that the kind of deals we were going to look at were going to be really interesting things where I learned a lot that I didn't know before. That was appealing." Vanderwel's ability to organize and unite individuals behind Grand Angels into a cohesive unit with a common vision and investment thesis was a key factor in the group's success.
"I'm grateful to be recognized by the West Michigan Dealmaker Hall of Fame and to have had the opportunity to work with so many talented and dedicated people throughout my career," Vanderwel said. "I'm excited to continue serving as a managing partner at Michigan Capital Network and supporting the next generation of entrepreneurs."
---
ABOUT FULLER SEMINARY
Fuller Seminary is one of the largest multidenominational seminaries in the world with a global enrollment of more than 3,000 students in its master's and doctoral programs. Fuller Seminary students may take classes in person, online, or through a hybrid of the two via campuses in Pasadena, Houston, and Phoenix. Founded in Pasadena, California, Fuller Seminary is committed to providing indispensable, formational education to diverse Christian leaders everywhere. Responding to changes in the church and world, Fuller Seminary is transforming the seminary experience to create a global learning community where leaders can access Fuller Seminary's traditional graduate programs, as well as non-degree courses through the digital learning platform FULLER Equip, and free resources created by FULLER studio. Fuller Seminary's distinctive integration of its four major disciplines—housed in the School of Mission and Theology and the School of Psychology & Marriage and Family Therapy—is evident in its range of master's and doctoral programs, uniquely equipping leaders for innovative, nuanced, and intellectually grounded service in a variety of roles and settings.