Fuller Welcomes Jaclyn Williams as Instructor in the Practice of Preaching and Chaplaincy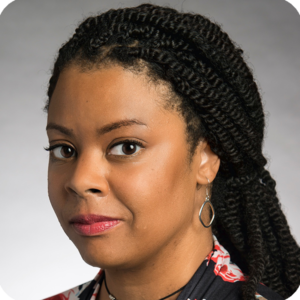 The School of Mission and Theology welcomes Jaclyn Williams as instructor in the practice of preaching and chaplaincy. She has served as an adjunct instructor in preaching at Fuller since 2014. Upon successful completion of the viva voce for her PhD in Theology and Religion at the University of Birmingham (UK), she is excited to transition into the role of assistant professor of the practice of preaching and chaplaincy this fall.
An American Baptist ordained minister and an Alliance of Baptist endorsed chaplain, Williams has been awarded the Parish Pulpit Fellowship (Fuller Theological Seminary), the Excellence in Community Service Award (Wheeler Avenue Baptist Church), and Emerging Artist Award (The Links, Incorporated). She holds an MDiv from Fuller, an MFA in Acting  from the University of Washington Professional Actor Training Program, and a BA in Theatre from the University of Houston.
As a preacher, chaplain, educator, and performing artist, she is always curious about what it means to holistically walk out a life of faith in all seasons. This curiosity fuels her time in research, practice, and teaching. She views the opportunity to acknowledge and accompany students, colleagues, and others as they follow their curiosities and convictions as an enormous gift.