Fuller Welcomes Melissa Zwart as Marriage and Family Therapy Director of Clinical Training for Pasadena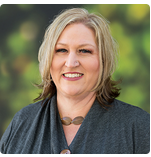 The School of Psychology & Marriage and Family Therapy welcomes Melissa Zwart as Marriage and Family Therapy Director of Clinical Training for Pasadena. An alum of Fuller's MSMFT and MAT programs, she has spent the last nine years working for Azusa Pacific University, where she served as an assistant professor, MFT program director, and director of clinical training for their Orange County campus. Her special interests include matters related to child abuse/trauma, attachment, issues related to adoption, neuropsychosocial development of adolescents, identity formation, and parenting. She has a strong passion for ministry and spiritual integration both in clinical practice and in academia. Zwart feels called to shepherd, support, and equip students through their developmental journey as they navigate their MFT education. Her heart is to inspire in her students a love for learning and an embrace of their identity and calling to the field.
Her clinical experience extends to working alongside a local police department, providing assessment and treatment at a college/community counseling center, and helping foster children. She has experience in providing therapeutic intervention for at-risk youth in a community mental health facility and has spent 12 years working at a Christian counseling agency supporting ministry leaders and congregants within the local church. She maintains a Certificate in Play Therapy from the University of California San Diego and is trained in relational hypnosis, Gottman and EFT Level 1 and 2 Couples Therapy, EMDR, and Splankna therapy. She is currently in the DMFT program at Fuller and will be doing her dissertation on adolescent neuropsychosocial development and its implications on parenting within Christian families.

As a therapist, Zwart desires to see people experience healing and wholeness, becoming the person God created them to be. She maintains a small private practice in Chino, California, where she specializes in work with children/adolescents, family therapy, and ministry leaders. Despite her education and years of diverse experience, she credits her two adoptive children, Alexys (15) and Nathaniel (11), as being her greatest teachers.