Immigration Beyond Politics: Researchers at Fuller Seminary Examine How Detention and Deportation Inflict Psychological Trauma on Citizen Children
With funding provided by the Foundation for Child Development Young Scholars Program, Dr. Lisseth Rojas-Flores of Fuller Theological Seminary's School of Psychology evaluated the role detention or deportation of a parent has on the mental health of citizen children. Results from her study are in "Trauma and Psychological Distress in Latino Citizen Children Following Parental Detention and Deportation," a peer-reviewed article recently published in the American Psychological Association's journal Psychological Trauma: Theory, Research, Practice, and Policy.
Citing proposed immigration legislation currently being discussed by the newly elected Trump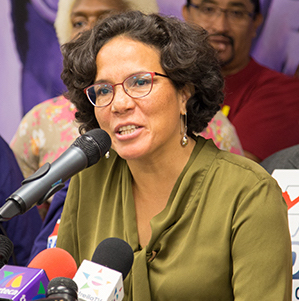 administration, Dr. Rojas-Flores, associate professor of marital and family therapy at Fuller Seminary, says that highlighting this topic is necessary because of the potential trauma that will be inflicted upon millions of U.S. children if mass deportation takes effect. Trauma has debilitating effects across all aspects of a child's functioning and is a costly public health issue. President Trump recently signed an executive order calling for an expanded effort to identify and remove immigrants who are in the country illegally. According to the executive order, he intends to revive programs that will allow the federal government to work with local and state law enforcement agencies to arrest and detain unauthorized immigrants and to share information to help track and apprehend them. The Trump administration is expected to restore factory raids, carried out during the George W. Bush administration and partly through the Obama administration, in which Immigration and Customs Enforcement (ICE) officers raid factories and apprehend unauthorized immigrant workers whose children are often left behind.
"Nearly a third of children of immigrants in the United States—that is, about 5.5 million children—have an undocumented parent who is at risk of being detained a deported, and most of these children are U.S.-born citizens," Dr. Rojas-Flores said. "This generation of young Americans—at constant risk of losing a parent, of having their families torn apart by immigration enforcement—are an important segment of our society and must be considered in the reformulation of immigration policies." Detention and/or deportation of a parent often creates great challenges for children and families at home, school, and in their communities.
Dr. Rojas-Flores conducted the study from 2013 to 2015 in which she researched U.S. citizen children of undocumented and legal permanent resident parents born in Mexico or Central America (e.g., Nicaragua, Honduras, El Salvador, Guatemala). Specifically, this study investigated mixed-status Latino families with U.S.-born citizen children between ages 6 and 12 living in the Southwest region of the U.S.
At the outset of the study, Dr. Rojas-Flores and the co-authors note the extensive body of research that demonstrates how potentially traumatic events (PTEs) in childhood (e.g., losing a parent, experiencing forced parent-child separations, and the incarceration [by extension detention] of a parent) are important social determinants that pose serious risks for lifelong mental and medical illnesses. Increased PTEs experienced by children were related to increased vulnerability to Post-Traumatic Stress Disorder (PTSD). PTSD has debilitating effects on child development and functioning and is a costly public health issue. Moreover, the study notes that, to the best of the researchers' knowledge, no studies have systematically assessed PTSD symptoms and overall psychological distress among citizen children of immigrant parents with precarious legal status using extrafamilial informants (e.g., teacher, clinician, etc.) and well-established measures of child functioning (e.g., standardized and normed).
The findings of the study indicate that:
Having an unauthorized parent creates a risk to children's mental health above and beyond socioeconomic risk. Though there is a well-recognized understanding to the challenges of poverty, children whose parent is unauthorized are susceptible to mental health risks even exceeding those of impoverishment.
Citizen children of detained and deported parents experience more psychological distress (e.g., anxiety and depression symptoms) compared to peers whose parents had no involvement with immigration enforcement.
Citizen children of detained and deported parents fare much worse in terms of trauma symptoms (PTSD) compared to peers whose parents had no involvement with immigration enforcement, and peers whose parents were legal permanent residents
The study concludes that "the current and heightened enforcement of immigration laws poses a serious public health challenge to U.S.-born children of undocumented parents. Not only is PTSD recognized as a high priority public health issue, but child PTEs, such as losing a parent, pose serious risks for lifelong mental and medical illnesses." The study goes on to note that children experiencing more PTEs were rated by parents and teachers as exhibiting more externalized symptoms and were at greater risk of misdiagnosis (e.g., with attention deficit/hyperactivity disorder or conduct issues).
The researchers advocate for "a call for action to prevent forced parental separation and constant threat of potential loss of a parent due to immigration enforcement." Furthermore, the authors recommend affordable and culturally relevant services for children of detained or deported parents and for citizen children of parents living in the shadows. "A reevaluation of immigration policies that have significant effects on access to health services is also extremely relevant to the well-being of Latino citizen children."
One such policy that could provide support for these vulnerable young citizens may come in the form of trauma-informed mental health services; a policy analogous to Assembly Bill 1644 instituted by the State of California and then-California Attorney General Kamala Harris. AB 1644 is a four-year pilot program that assists elementary schools in providing mental health services to students with high levels of childhood trauma and adversity, including abuse, neglect, and community violence. "Childhood trauma can have a devastating and lasting impact not only on our children but also on our families and our communities," said now-Senator Harris.
Dr. Rojas-Flores's teaching, research, and scholarship are deeply informed by culture and context, and she takes a special interest in addressing the interrelationships between family, mental health, and social justice. Her primary research has focused on trauma, youth violence prevention, and the quality of parent-child relationships and overall well-being of children and parents living in low-income immigrant families in the U.S. In an international context, she is conducting collaborative research looking at the impact of community violence and trauma on adolescents, parents, and teachers living in El Salvador. Most recently, Dr. Rojas-Flores has been researching displaced communities in Colombia and the role that faith leaders play in supporting their reintegration and flourishing. As a bilingual/bicultural clinical psychologist, she also provides clinical assessments to Central American unaccompanied minors. Her work has been published in journals such as Psychological Trauma, International Perspectives of Psychology, and Anxiety, Stress, & Coping: An International Journal.
To access the full article, visit here.
(Note: subscribers to Psychological Trauma: Theory, Research, Practice, and Policy and academic institutions can access the electronic article for free.)