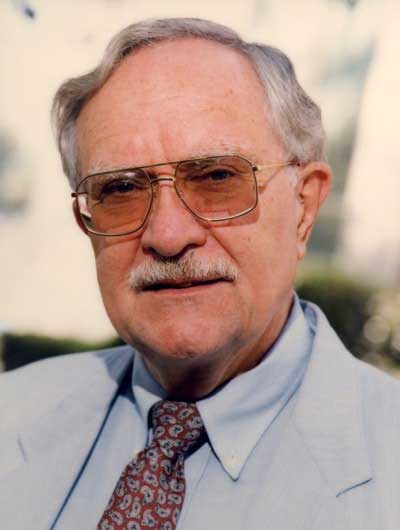 Newton Malony, longtime professor of psychology at Fuller Theological Seminary, passed away on Monday, August 10, 2020, in Eugene, Oregon.
"Newton Malony was a scholar, therapist, and leader who powerfully embodied Fuller's commitment to the integration of psychology and theology," said Richard J. Mouw, former president of Fuller. "He was passionate about inspiring students to think theologically about psychology, and he was dedicated to helping pastors and other ministry leaders use psychological research in practical ways to strengthen the church." 
Dr. Malony joined the faculty of the seminary in 1969—not long after the founding of the School of Psychology—and taught courses within the department of clinical psychology until retiring in 1992. A prodigious scholar, he specialized in the psychology of religion, contributing to the study of areas as diverse as pastoral counseling, religion and mental illness, psychology of clergy, and the psychology of conversion. 
Along with scores of articles, Malony wrote more than 35 books, including an important volume that detailed the history of Fuller's School of Psychology: Christ in the Heart of Psychology: The Early Years of Fuller Seminary's School of Psychology (1996). He authored several volumes exploring the integration of psychology and theology, including, more recently, Whatever Happened to the Soul (1998), Living with Paradox: Religious Leadership and the Genius of Double Vision (1998), Brainwashing, Coercive Persuasion, Undue Influence, and Mind Control: A Psychologist's Perspective (1998), and Psychology of Religion: Personalities, Problems, and Possibilities (1992).
Integration is one of the most important emphases of Fuller's School of Psychology, and in addition to his writing, Malony contributed to this sphere of the seminary through his service as director of programs in the integration of psychology and theology for 15 years (1977–1992). He was awarded Fuller's C. Davis Weyerhaeuser Award for excellence in teaching in 1987 and was honored as speaker at the School of Psychology's annual Integration Symposium in 1996. Malony will continue to play an important role at Fuller through the H. Newton and Suzanna Malony Scholarship for ethnic minority students in the School of Psychology, which he and his wife generously founded.
Malony was also an ordained minister in the United Methodist Church and maintained a private clinical practice until his retirement. He was involved in numerous professional associations, and previously served as president of the Christian Association for Psychology Studies and as a contributing editor of the American Journal of Pastoral Counseling, Journal of Psychology and Theology, Journal of Christian Psychology, Review of Religious Research, and Journal for the Scientific Study of Religion.