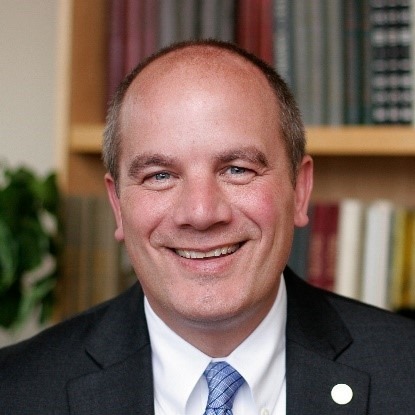 The Fuller Foundation is pleased to announce the appointment of Ken Erffmeyer to the position of chief of philanthropy, effective September 13. In this role, Mr. Erffmeyer will oversee all fundraising and alumni relations functions for Fuller Seminary. Mr. Erffmeyer succeeds Brent Assink, who is retiring after more than four years at Fuller.
Ken comes to Fuller after a 13-year tenure as vice president for advancement at Calvin University, where he oversaw remarkable growth and stability of their fundraising operation. He and his team raised more than $200 million over the past five years and generated the best fundraising year in Calvin's history with more than $64 million in new pledges. Prior to his tenure at Calvin, Ken served as vice president of human resources at Thomson Reuters in Stamford, Connecticut, and as senior manager for human capital at Deloitte in Minneapolis. He holds a BA in Accountancy from Calvin and an MBA from the University of Minnesota. He has also served as a board member at several Christian schools in both Minnesota and Michigan and on the Barnabas Foundation Board of Directors.
Ken will work closely with President Mark Labberton and Fuller's Senior Leadership Team, as well as the Campaign Steering Committee and the Board of Trustees, in order to successfully conclude the comprehensive fundraising campaign that is currently underway.