Michaela O'Donnell Named Executive Director of the Max De Pree Center for Leadership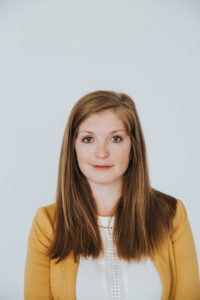 The Max De Pree Center for Leadership is thrilled to announce Michaela O'Donnell will be the center's new executive director. The mission of the De Pree Center is "to equip leaders to respond faithfully to God's callings in all seasons of their life and leadership." A few months ago, Mark Roberts, the De Pree Center's current executive director, sensed that as he was trying to respond faithfully to God's calling on his own life, it was time for him to focus on De Pree's promising Third Third Initiative and therefore transition the executive director role to Michaela.
A double Fuller alum (MDiv in 2011 and PhD in Practical Theology in 2018), Michaela has served as senior director of the De Pree Center and adjunct professor of practical theology at Fuller since 2018. Before that, she ran Long Winter Media, a creative agency she co-founded (and still owns) with her husband. The agency serves a variety of clients ranging from global tech companies to small entrepreneurial nonprofits. With her background in business, Michaela is at home among the marketplace leaders the De Pree Center is called to serve.
Michaela's first book, Make Work Matter: Your Guide to Meaningful Work in a Changing World, will be published by Baker Books this October. It's written for all of us who find ourselves in a new world of work with old tools, which too often leaves us feeling ill equipped to do the "world changing" we so hope to do. Alongside Life for Leaders, Road Ahead, and the Third Third Initiative, Make Work Matter (and its accompanying training resources) will be a notable next step toward De Pree's goal of serving the needs of marketplace leaders as they sort out living and leading in response to God.
As Michaela assumes the role of executive director, Mark will become a senior strategist for the De Pree Center. He will continue to be the main writer of Life for Leaders and will work to develop new resources and experiences based on the daily devotions. Mark is excited to be able to devote more time to the Center's new Third Third Initiative, which is already helping people in that life stage clarify and respond to God's callings. With 10,000 people in the US turning 65 every day, this is prime time for a biblically based, research-shaped initiative focused on "third third" flourishing.
The De Pree Center will continue to serve as one of the six pioneering centers of the Leadership Formation Division (along with the Fuller Leadership Platform). Chief of Leadership Formation Kara Powell describes this transition as "an example of the De Pree Center's mission and values in action. For the last six years, Mark Roberts has reinvigorated the De Pree Center and built a new team and new team culture. Just when we need Mark to focus on the emerging Third Third Initiative and his own writing for the center, Michaela O'Donnell is perfectly positioned to become the new executive director and help the De Pree Center soar into its next chapter."
To find out more about the work of the De Pree Center and sign up for resources that help you respond faithfully to God's callings in your own life and leadership, visit www.depree.org.