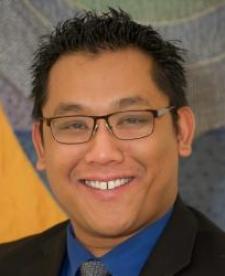 PhD Practical Theology, Center for Advanced Theological Studies
Hi, I'm Chris, and I hail originally from Lancaster, CA. My wife and I have three young kids, and we currently live in Pittsburgh, PA. Before relocating in early 2017 for work, I was a SoCal youth pastor and music minister for several years, primarily at a couple of immigrant congregations (Chinese/Taiwanese; Indonesian). Both before and amid church work and early parenting, I was also a FT staff person at Fuller in a few roles and eventually started the PhD program at the Center for Advanced Theological Studies in 2013. It's a complex timeline, with lots of coffee and a few of years of overt side-hustling (or "tentmaking" if you're nasty)—all this to say, if you and I haven't yet met or had a deep conversation about higher education, race, politics, comics, or your Los Angeles Lakers, then let's pencil in a Zoom call: https://atscoa.doodle.com/the_ats
Master of Arts in Religion
Fuller Theological Seminary
Constructive Theologies (Ecclesiologies), Poststructuralism, Liberation/Postcolonial/Decolonial Approaches, Nationalisms (Imagined Communities), Migration/Transnational Studies, Indonesian Studies, Asian American Christianity.
"First Impressions of a Lasting Legacy: The Aleshire Effect in Abbreviated Retrospective." Theological Education 52.1 (2018), 47-52.
Christopher The, "'Plans To Prosper You': Practical Theological Resourcing of Immigrant Churches for Civic Engagement," Indonesian Journal of Theology 3.1 (2015 Juli [July]), 94–127.
Christopher The, "Transformation, Mission … and Assessment." Practical Theology (forthcoming).
Fuller Seminary hosts these profiles as a courtesy to our doctoral students. Their views are their own and do not necessary reflect the views of the seminary.