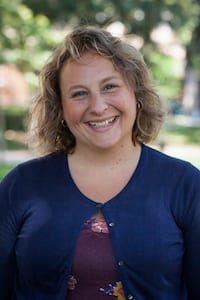 PhD Theology and Culture, Center for Advanced Theological Studies
Jennifer L. Ackerman is the Ogilvie Institute of Preaching Director of Operations and Director of Micah Groups, a ministry designed to help catalyze a movement of empowered, wise preachers who live and lead at the convergence of worship, preaching, and justice. Jennifer is an ordained pastor in the Presbyterian Church (USA), with more than 20 years of previous experience facilitating the worship and preaching efforts of churches in multiple denominations across the US.
Fuller Theological Seminary
Moorhead State University, St. Olaf College
Bachelor of Music in Vocal Performance
Liturgics; homiletics; ethics; practical theology
"Book Review: Justo L. González, A Brief History of Sunday: From the New Testament to the New Creation." The Evangelical Review of Theology and Politics, King's Divinity Press, Vol. 5, 2017.
"A New Imagination for Christian Race Relations: Radical Embrace of the Imago Dei." Princeton Theological Seminary Graduate Student Conference, February 2017.
"Practices" in Mark Labberton, Called: The Crisis and Promise of Following Jesus Today. Intervarsity Press, 2014.
"Worship A Vessel for Navigating the Currents of Postmodernity." Pending publication in Faith, Embodiment, and Globalization: Postmodernity and Christian Cultural Practices. Eds. Joshua Beckett and Hak Joon Lee.
Fuller Seminary hosts these profiles as a courtesy to our doctoral students. Their views are their own and do not necessary reflect the views of the seminary.