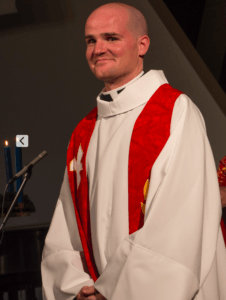 PhD Christian Worship, Center for Advanced Theological Studies
Jon currently serves as the senior pastor at Trinity Lutheran Church in Omaha, NE while he is completing his dissertation on the formative role of music in the faith lives of young people. Along with his ministry work, Jon is also a music educator, conductor, and singer.
Bachelor of Music Education (2004), Master of Music (2010)
Luther Seminary - St. Paul, MN
Worship as formation, Music in worship, History of liturgical music, Lutheran liturgical music, Lutheran liturgical history and theology, Philosophy of music education
"Sacred Harp and Performance Theory: An Introduction to Practice and Performance Theory in Shape-Note Singing." Cross Accent 24:1 (2016): 12-25.
"Stanley Hauerwas as Liturgical Theologian." Questions Liturgiques 97:1-2 (2016): 20-31.

"All the Saints of God." Journal of Pentecostal Theology 25:1 (2016)> 107-122.
Fuller Seminary hosts these profiles as a courtesy to our doctoral students. Their views are their own and do not necessary reflect the views of the seminary.