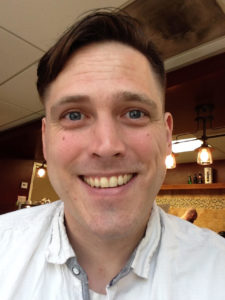 PhD Christian Ethics, Center for Advanced Theological Studies
Hailing from Tennessee by way of Illinois, Joshua Beckett is an Adjunct Instructor and doctoral candidate in Christian Ethics at Fuller Theological Seminary. His dissertation is an interdisciplinary project that brings together the theological ethics of Martin Luther King, Jr. and the social theory of Antonio Gramsci, relating them to the challenges of neoliberalism and illiberalism in contemporary political economy. Joshua is a member of the American Academy of Religion (serving as Ethics co-chair for the Western Region), the Christian Community Development Association (participating in its leadership cohort), and the Society of Christian Ethics. Outside of the academy, he preaches, makes soup, and serves on the vestry at St. Barnabas Episcopal Church in Pasadena; he is also a regular preacher at the English Ministry of Livingstone Alliance Church in Hacienda Heights. Joshua lives in an intentional community called Madison Square, and most days, his primary form of self-expression is song. 
Trinity Evangelical Divinity School
Bachelor of Arts in Italian Language and Literature
Theological and social ethics, political theology and social theory, reconciliation and peace studies, theology and culture (literature and music), human sexuality, pneumatology.
"A Poet's Prophetic Vocation: The Historical, Dramatic, and Literary Trajectories of Dante Alighieri's Ecclesial Criticism." Christianity & Literature Vol. 66 No. 4 (Sept. 2017): 577-590.
"Lament in Three Movements: The Implications of Psalm 13 for Justice and Reconciliation." Journal of Spiritual Formation & Soul Care Vol. 9 No. 2 (Fall 2016): 207-218.
"'The Light Shines in the Darkness': Some Implications of John's Theology of Light for CCD." CCDA Theological Journal Vol. 4 (2015): 16-21.
"Immigration" and "Mass Incarceration" in Hak Joon Lee and Timothy A. Dearborn, eds. An Invitation to Christian Social Ethics: Diverse Responses to Divisive Issues. Downers Grove: IVP Academic [forthcoming: under contract, manuscripts submitted].

"Desire in Singleness: Ascetics and Eternity (Or, Why Christians Don't Need to Get Married)" in Kutter Callaway, Breaking the Marriage Idol: Reconstructing Our Cultural and Spiritual Norms, 193-211. Downers Grove: InterVarsity Press, 2018.
Fuller Seminary hosts these profiles as a courtesy to our doctoral students. Their views are their own and do not necessary reflect the views of the seminary.