LIFE AFTER FULLER
The School of Mission and Theology prepares students for a wide range of cross-cultural contexts and areas of work. While core classes ensure a solid foundation in theology and missiology, concentration classes allow you to pursue a particular area in greater depth thus preparing you for future ministry and employment. Resources for vocational placement are readily available through the SIS Advising Office or Fuller's Office of Vocational Discernment.The following graph provides a picture of the types of organizations with which SIS graduates are currently working: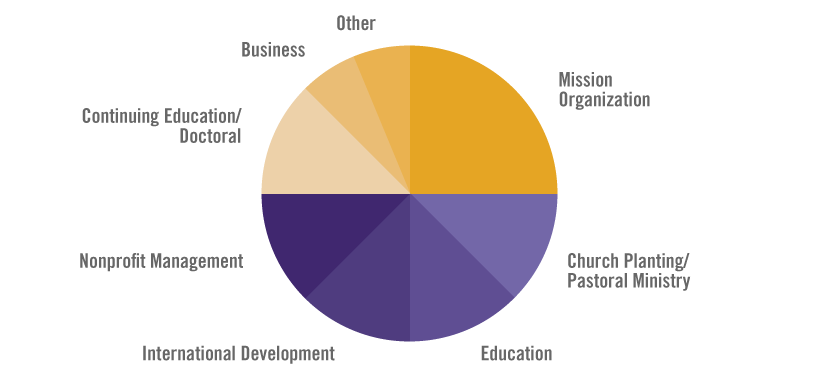 WORLD VISION INTERNATIONAL APPRENTICESHIP
The School of Mission and Theology has a unique arrangement with World Vision International that allows two graduates the opportunity to work alongside seasoned World Vision technical professionals. The apprenticeship is a two-year paid position, and is specifically suited for those graduates with an interest and concentration in International Development. Apprentices are placed in one of World Vision International's U.S.-based offices where they assist with research and assessment in areas like peace-building, child rights and transformational development. Interested students may apply during the Winter Quarter before graduation.