These therapists are graduate-level clinicians in a 2 or 3-year Marriage & Family Therapy degree program in Arizona who are accumulating the required hours of clinical training. They have completed a significant amount of academic work at this stage and are now working at clinical training sites to obtain additional experience. While working with clients in this phase of their education they are supervised by an Independently Licensed Marriage and Family Therapist and receive weekly training and oversight of their cases.
ASSOCIATE LICENSED MARRIAGE & FAMILY THERAPISTS
Associate-level therapists have achieved a master's degree in Marriage and Family Therapy and have passed the licensing exam in Arizona. These therapists are in the last stage of training before they qualify for full independent licensure. They have accumulated 300+ hours of experience providing therapy services to a diverse array of clients. A Licensed Marriage and Family Therapist supervises their work and associates continue to receive weekly training.
INDEPENDENTLY LICENSED THERAPISTS
FAMHS employs on-site therapists who are fully licensed Marriage and Family Therapists. These clinicians are our most educated and experienced therapists, having satisfied all the requirements for independent licensure in Arizona. In addition to treating clients in therapy, they also supervise Associate Therapists and Graduate Student Interns.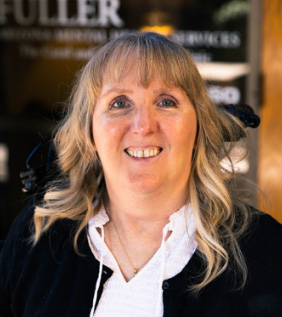 Dr. Rachel Lingle, LMFT

Marriage & Family Therapist, Director of Training
Marriage relationships and parenting can be challenging! I've experienced periods of loneliness when feeling emotionally disconnected from a spouse; I've also been through the guilt & frustration of feeling like a parenting failure. I've been married to the same guy for several decades now and we've navigated some tough life changes. One of our toughest challenges has been life with a chronic illness.
My clinical work focuses on helping adult individuals and couples address relational issues and life transitions. I am certified in Relational Life Therapy (RLT) and trained to treat trauma using accelerated resolution therapy (ART). I love to help people navigate the challenges that arise in relationship and I'm always thrilled when clients share stories of successfully changing their old, hurtful relational patterns to ones that foster intimacy. I focus on your strengths as I assist you to reimagine your  relationship. My goal is to help you feel heard and understood.
My background includes burnout research, administration, teaching undergraduate and graduate students, and clinical practice. I also provide guidance and supervision for associate and student therapist trainees, in addition to overseeing the day to day clinic operations. I earned both a Doctorate and a Master's degree in Marriage and Family Therapy at Fuller Theological Seminary.