Fuller's MA in Justice and Advocacy (MJA) provides a formational education for those enacting God's call to "do justice, love mercy, and walk humbly with God" in their vocational contexts. Marked by Fuller's distinctive integration of theology, psychology, and missiology, the MJA equips students with a comprehensive understanding of the pursuit of God's justice as an integral part of God's mission in the world, equipping them for impactful leadership in justice and advocacy work in diverse settings. 
Requiring a total of 60 quarter units (most classes are 4 quarter units), Fuller's cohorted MJA program can be completed in 2 to 2½ years of full-time study (8 units per quarter).
FOUNDATIONAL COURSES - 24 UNITS
Fall Quarter - Year 1
SF508 Our Vocation and God's Shalom
SF505 Foundations of Practical Theology
Winter Quarter - Year 1
SF503 Living Missiologically
OT500 Old Testament Introduction
Spring Quarter - Year 1
SF501 Foundations of Psychological Sciences
MN533 Organizing Urban Communities for Transformation
Fall Quarter - Year 2
NT500 New Testament Introduction
MB517 Methods, Models, and Tools for Social Change
Winter Quarter - Year 2
Advanced Bible
EV505 Witness and Justice
Spring Quarter - Year 2
ET523 Power, Resilience, Justice
MI507 Pressing Forward: Leading Missional Transformation for Justice
Choose any three master's level courses. You may wish to explore an area of study or select a diverse combination of courses that support your ministry and life goals.
FIELD PLACEMENT - 0 UNITS
Students will have the opportunity to reflect deeply upon coursework and cohort experiences as they embody an approach to shalom in their own context, developing a dialogical practice that will inform their evolving work and commitment to justice and advocacy.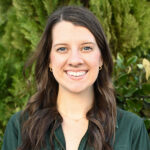 Office Hours
Monday – Friday
8 am – 5 pm (Pacific Time)
To view in-person welcome center hours for Pasadena, Arizona and Houston, click here.