2018 PAYTON LECTURES
THEOLOGY AND HUMAN RIGHTS: TENSIONS OR CONVERGENCE?
The Theology Division of the School of Theology at Fuller Seminary welcomes the Right Reverend Rowan Williams, 104th Archbishop of Canterbury, as the 2018 Payton Lecturer. Dr. Williams will offer two lectures in exploration of the relationship of theology to human rights in church and society today. We invite you to join in conversation with Dr. Williams alongside faculty members from Fuller's School of Theology as we explore this crucial and timely topic.
Registration for the 2018 Payton Lectures is now closed. As space is limited and we expect a large audience, registration is required to attend, and seating for registered guests will be on a first-come, first-served basis. If attendance exceeds building capacity, an overflow space on Fuller's Pasadena campus will be provided for Fuller Students, Faculty, and Staff, and late arrivals to view the lectures via simulcast.
A live stream feed will be available for both lectures at www.fuller.edu/watch.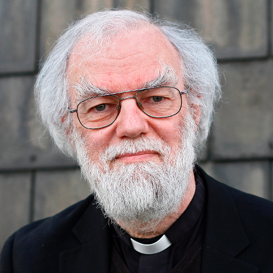 Rowan Williams
Cambridge University
104th Archbishop of Canterbury
The Right Reverend Rowan Williams, Baron Williams of Oystermouth, is a Welsh Anglican bishop, theologian, and poet. He was the 104th Archbishop of Canterbury, Metropolitan of the Province of Canterbury, and Primate of All England, offices he held from 2002 to 2012. He was previously the Bishop of Monmouth and Archbishop of Wales, making him the first Archbishop of Canterbury in modern times not to be appointed from within the Church of England.
As Archbishop of Canterbury, his principal responsibilities were pastoral—leading the life and witness of the Church of England in general and his own diocese in particular by his teaching and oversight, and promoting and guiding the communion of the worldwide Anglican Church by the globally recognized ministry of unity that attaches to the office of bishop of the see of Canterbury.
Dr. Williams is acknowledged internationally as an outstanding theological writer, scholar, and teacher, and has been involved in many theological, ecumenical, and educational commissions. He has written extensively across a wide range of fields of professional study: philosophy, theology (especially patristic Christianity), spirituality, and religious aesthetics. He has also written throughout his career on moral, ethical, and social topics and, since becoming archbishop, has turned his attention increasingly to contemporary cultural and interfaith issues.
His interests include music, fiction, and languages. In 1981 Dr. Williams married Jane Paul, a lecturer in theology, whom he met while living and working in Cambridge. They have a daughter and a son.
Wednesday, April 4
10:00 am: Human Rights and Human Identity
This lecture will examine where recent tensions have come from—both in regard to Christians arguing that the idea of rights is a mistake, obscuring our dependence on God and one another and reinstating a legal relation in the place of grace and communion; and in regard to the sense that rights activists are pressing an individualistic and morally empty picture of human identity. It is true that the language of entitlement and legal enforceability is at best awkward and at worst risky. But can we restate this in terms of a proper self-recognition as a bearer of God's image and a potential minister of the gifts of the Spirit in the community?
Thursday, April 5
10:00 am: Rights, Recognition, and the Body of Christ
Self-recognition is never a self-initiated matter; it depends on being recognized. Theology establishes that every human subject, every organic and spiritual individual, is recognized by God as maker and redeemer; and the church can be seen as, above all, a place where recognition is learned and offered. Christian self-recognition and mutual recognition declare that any human other has a claim on my attention and service. And what makes all this more than a formal acceptance of endlessly diverse individual aims and desires is the conviction that recognition changes the character of relation between persons in such a way that faithful nurture, selfless patience, and risk for the good of the neighbor become central and universal aspects of a life lived in self recognition and recognition of each other. We need to build bridges between this vision—essentially the biblical vision of Christ's body—and the often confused and badly grounded language of rights as we often hear it. Christians have a genuinely crucial perspective to offer in terms of universal human dignity and destiny and they need to be ready to engage with the language of rights, both positively and critically.
Save the Date for Payton Lectures 2019
April 3–4, 2019
Carol A. Newsom
Charles Howard Candler Professor of Old Testament
Join us in welcoming Carol A. Newsom from the Candler School of Theology at Emory University. Dr. Newsom is a senior fellow at Emory's Center for the Study of Law and Religion and coeditor of the acclaimed Women's Bible Commentary (Westminster John Knox, 2012), now in its third edition, which explores the implications of and challenges long-held assumptions about the Bible's portrayal of women and other marginalized groups.