In Memory of Archibald D. Hart: One of Christian Psychology's Founders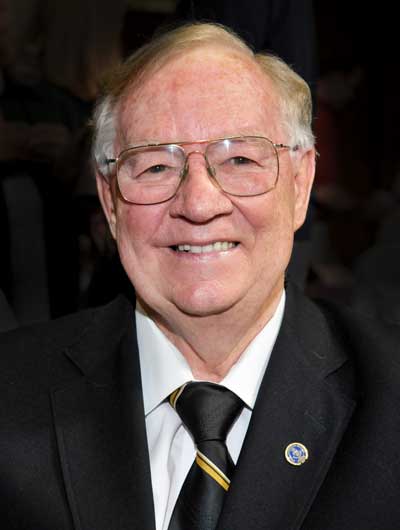 Archibald (Arch) D. Hart was peacefully promoted to heaven on July 18, 2021. He was 89. Dr. Hart faithfully served on the faculty of Fuller Seminary's School of Psychology & Marriage and Family Therapy from 1973 to 2001 and continued to teach courses for Fuller by request until 2016. He taught clinical psychology students and marriage and family students, and he also taught for the Doctor of Ministry program. With more than 43 years of academic service to Fuller, Hart retired as professor emeritus of psychology and dean emeritus of the School of Psychology & Marriage and Family Therapy.
He was also a licensed psychologist, a well-known and prolific author of more than 35 books and numerous articles, an international speaker, and a frequent guest on Christian radio (e.g., Focus on the Family). With diverse interests ranging from enjoying the great outdoors to travel to the latest technology, he was also a man who continued to study, learn, and gain additional credentials into his later life (e.g., certified biofeedback practitioner, board certified diplomate fellow in psychopharmacology, international director of the American Association of Christian Counselors). His awards are too many to mention, but it is notable that he was the first faculty recipient of Fuller Seminary's highest professorial honor, the C. Davis Weyerhaeuser Award, which he received in 1978.
Hart was born in Kimberly, South Africa, on April 27, 1932. He met his future wife, Kathleen, at an engineering firm where they both worked. While working, Hart also pursued his engineering studies. He earned his Bachelor of Science degree from the University of South Africa, and the Harts were married in 1954. Soon thereafter, he began work as a civil engineer in 1956. He continued until 1963, when he became the assistant (and later chief) city engineer for the city of Pietermaritzburg. He served in this role until 1969.
Hart was a committed Christian from an early age. He made his decision for Christ at the age of 19 at a tent revival meeting, where Kathleen, 17, also did so. In the early 1960s, he became involved with the development of a new ministry in South Africa: African Enterprise Mission (AEM). He later served on their board for many years. Through those early connections with AEM, which had a headquarters in Pasadena, he learned that Fuller Seminary was planning on founding a new School of Psychology. This was intriguing to him, even as he was beginning his own education to become a clinical psychologist.
While continuing to work as an engineer, Hart returned to academics, earning both his MS and PhD in Clinical Psychology from the University of Natal (also in South Africa). His studies and interest in electroencephalography led him to learn of the renowned psychologist Lee Edward Travis, who had pioneered both the electroencephalogram (EEG) and early biofeedback. Soon thereafter, Hart was surprised to discover that Travis had become the founding dean of Fuller's School of Psychology. God clearly had a hand in these varied points of convergence, and he felt led to apply for a postdoctoral position under Travis. Upon acceptance, Hart, his wife Kathleen, and their three daughters came to the United States in 1971 for a year of study at the School of Psychology.
That year at Fuller sowed seeds that quickly took root, and after returning to South Africa to work in private practice as a clinical psychologist in 1972, Hart applied for an open faculty position in Fuller's School of Psychology. In order to obtain the position, he obviously needed to show that he was the most qualified applicant. His background in engineering, leadership, and missions helped to prove his diverse and exceptional qualifications, but this also needed documentation. God continued to work, and through a series of fortuitous events, then Governor Ronald Reagan personally wrote a letter inviting Hart to the US and endorsing his appointment. This facilitated the process, and in 1973, Hart and his family immigrated, joining the faculty of Fuller's School of Psychology.
Hart's gifts were quickly noted, not only in psychology but also in leadership. He began serving as acting dean in 1981, and in 1983, he became the School of Psychology's third dean. His contributions as dean were significant and many. Perhaps foremost among these accomplishments, Hart was instrumental in establishing the reputation of the School of Psychology as an institution with a solidly evangelical Christian mission—even among more conservative Christians who had questioned this in earlier times. He oversaw the appointment of Lewis B. Smedes as the first chair of integration, and the integration of psychology and Christian theology has been central to the school's purpose ever since. In addition, tapping into his engineering expertise, Hart provided helpful consultation to those responsible for building a beautiful new School of Psychology building in 1986, which included the Lee Edward Travis Auditorium. Also under his leadership as dean, the Marriage and Family Program moved from the School of Theology to the School of Psychology, and the Doctor of Psychology (PsyD) degree program was created—both in 1987. Hart served as dean until 1995.
In addition to his leadership of the school, Hart was well-known for his writing and speaking. His many books addressed a wide array of topics, including the balancing of personal and professional life for leaders; how to finish well; how to cope with stress, depression, anxiety, and divorce; the vital importance of sleep; healthy sexuality; and even healthy approaches to dealing with the adrenaline and stress overloads inherent in our digital age. During many of his years at Fuller, Hart also helped countless people through his private psychotherapy practice, as well as a multitude of Christian leaders through his books and lectures. Indeed, he influenced pastors and other leaders around the world, particularly with his strong emphasis on the importance of spiritual health, emotional health, and self-care.
Whereas Hart was a brilliant man and scholar, he also knew the value of "coming as a child" when putting one's trust in God. When asked to give his own explanation for his multitude of accomplishments and amazing life, he was known to say, "I just got in the boat with Jesus and went wherever he took me." With his faith to guide him, Hart left a legacy of service as a professor, mentor, clinical psychologist, and Christian leader, and his influence on many colleagues and countless students will doubtless continue for years to come. He was a key pillar amongst those pioneers in the 1960s and 1970s who helped to make Fuller's School of Psychology & Marriage and Family Therapy a reality. Archibald D. Hart will doubtless continue to inspire many who will maintain the tradition of placing the cross in the heart of psychology.
Hart now joins his beloved wife, Kathleen Hart, who recently was also promoted to heaven on June 29, 2021. His extensive legacy will certainly continue through the lives and vital ongoing ministries of his three daughters, Catherine Hart Weber, Sharon Hart May, and Sylvia Hart Frejd, and their families.
A memorial service for Dr. Hart will be live-streamed on Zoom today (Wednesday, July 21), at 4 pm PST.
In lieu of flowers, donations can be made to the ongoing work of the Archibald Hart and Associates Ministry Fund [501(c)(3)]. For more information or to donate please go to www.flourishcenterforwellbeing.com.
+Written by Jeffrey P. Bjorck, Senior Professor of Psychology in the Clinical Psychology Department at Fuller Theological Seminary's School of Psychology & Marriage and Family Therapy