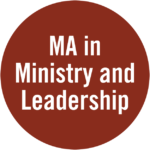 Equipping You for Missional Leadership in Young Life Ministry
Fuller has designed a specialized Master of Arts in Ministry Leadership program so that students can pursue a master's degree while remaining in full-time ministry. Our faculty and practitioners blend biblical studies, contextual theology, and youth culture perspectives to equip you as a missional leader within your current ministry context.
Biblical Foundations
Learn to interpret Scripture in its original cultural context
Contextual Theology
Analyze contemporary culture in dialogue with the historical Christian tradition
Missional Leadership
Enhance your professional leadership skills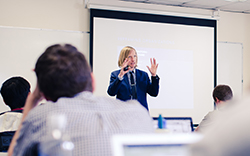 This program is exclusively designed for our ministry partner Young Life. This 12-course (48-unit) program is available in several modalities: fully online, hybrid, on-campus, or combined with courses offered in partnership with the Young Life Training Department.
BIBLICAL STUDIES (16 units)
Introduction to the Old Testament
This course orients students to the literature of the Old Testament in its various literary, historical, and theological contexts and to Old Testament interpretation in service of Christian practice. The books of Genesis, Exodus, Deuteronomy, 2 Samuel, Job, Psalms, Isaiah, Jeremiah, and Daniel will be the focus of study.
New Testament Introduction
This course orients students to the literature of the New Testament in its various literary, historical, and theological contexts and to New Testament interpretation in service of Christian practice.
Interpretive Practices
This course introduces interpretive approaches and practices for students of the Bible. Students will consider the aims and assumptions of biblical interpretation, become familiar with major resources for study of the Bible, interpret a variety of biblical texts in both testaments, and reflect upon the manner in which the varied contexts (e.g., social, cultural, theological) of the biblical world and contemporary readers inform interpretation.
Biblical Studies Elective (4 units)
Any Old Testament or New Testament Book Study
HISTORY THEOLOGY (12 units)
The Church's Understanding of God and Christ in Its Theological Reflection
This course is a survey of systematic and philosophical theology that focuses especially on the doctrine of God, the Trinity, Christology (comprising the person and work of Christ), and the Person and Work of the Holy Spirit. The course reflects the historic Christian church's development of trinitarian and Christological theology and creeds in its dialogue with its opponents and with its cultural context. Related topics and themes to be addressed may include the development and articulation of the Christian doctrine of God including the divine perfections and nature, as well as the doctrine of the Trinity; the development and articulation of the person and work of Christ; and pneumatology, the person and work of the Holy Spirit.
The Church's Understanding of the Church, Humanity, and the Christian Life in Its Historical Development
This course is a survey largely of medieval and Reformation history and theology that focuses especially on the doctrines that received their crucial shape for Protestant Christians during this period. Among these are the doctrine of the church (including the authority and office of the ministry, sacraments, the place of councils, and the role of the laity), the doctrine of Scripture (including the place of tradition), theological anthropology (including human nature as created and fallen, and original sin), and the doctrine of the Christian life (including the entire order of salvation—election, calling, faith, justification, sanctification, and final glory). Key figures to be studied include Aquinas, Luther, and Calvin.
Choose ONE of the Following:
Christian Ethics
A foundational course in Christian ethics that studies core Christian ethical vision, values, and convictions (telos, norms, and virtues) shaping and guiding Christian moral agency, decisions, and ecclesial practices. The course discusses the methods of ethical decisions, authority of Scripture, formation of moral agency, norms of love and justice, together with the issues of economic, racial, and ecological justice, the sanctity of life, sexual faithfulness, and violence and peacemaking with special attention to global, pluralistic contexts of Christian ministry today.
Perspectives on Christ and Culture
The Christian community has long debated the appropriate ways for Christians to relate to their cultural surroundings. This course will focus on some key perspectives, beginning with a critical examination of the motif made popular by H. Richard Niebuhr in his classic study, Christ and Culture. Special attention will be given to "cultural mandate" theories, as well as to the contemporary relevance of traditional notions of common grace, natural law, and general revelation as they have been used to discern created commonalities that undergird a plurality of cultures. The present-day interest in multiculturalism will also be explored.
Theology, Worship, and Art
This course is an introduction to Christian reflection and practice in the visual arts. The major emphases will be (1) the actual practice of viewing and making art in the context of prayer and meditation, focusing on art and character (with support from Mako Fujimura); (2) the historical and theological context of art and faith; and (3) the role of the arts in the wider community and in worship. By lectures, discussions, art projects and museum visits, students will engage with significant examples of art as a way of developing a critical appreciation and a Christian appropriation of this dimension of life—with respect to its value for worship and witness.
MISSIONAL LEADERSHIP in YOUTH MINISTRY (20 units)
Introduction to Youth Ministry
This course gives an overview of contemporary culture, especially as it affects youth ministry, and provides historical and theological youth ministry concepts and grounding. In addition, a broad spectrum of ministry programs and issues will be addressed, such as "youth ministry as practical theology," the changing family, organizing a ministry program, missions and service, and ministering in a multicultural, multicontextual world.
Leadership in Youth Ministry
The purpose of this course is to teach students the calling, roles, and responsibility of Christian leadership in any context, but especially youth ministry. Issues discussed include the meaning of being a Christian leader; how to develop a volunteer leadership program; how to recruit, initiate, train, nurture, and care for volunteer leadership; the necessity for encouraging people in their giftedness, even if that may mean helping them to move on from youth ministry; and how to lead, equip, and best utilize interns and paid staff. The graduate will understand an approach to practical theology, leadership philosophy and theology, and various models and approaches for engaging in leadership in youth and family ministry.
Youth Minister as Person
Description coming soon
Leadership I: Foundations for Incarnational Youth Ministries
Practicum in the basic methods of evangelistic youth outreach, emphasizing the development of personal relationships with young people through relevant forms of group ministry. A portion of the course focuses on the recruitment, training, and ongoing enabling of volunteers for outreach ministries to youth. Offered only for Young Life staff. (4 Units)
Leadership II: Building Resources for Incarnational Youth Ministries
This course is designed to build the skills of people in youth ministry as well as their ability to train others in the areas of discipleship, adult ministry, camping, and fundraising. Offered only for Young Life staff. (4 Units)
Continue the Conversation
Do you have questions or would you like more information? Please contact us. We're here to help!
Office Hours
Monday–Thursday
8 am–5 pm (PT)
Friday
10 am–5 pm (PT)