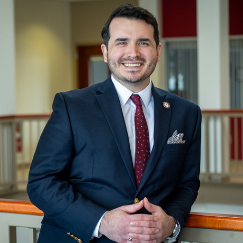 Affiliate Assistant Professor of Youth, Family, and Culture
BA, Cedarville University
MA, Asbury Theological Seminary
PhD, Michigan State University
Continuing Education, Cornell University, University of South Florida
Ben Espinoza is passionate about developing the next generation of Christian leaders. His passion extends to many areas of leadership, ministry, and scholarship. Currently, he serves as associate VP for online education, executive director of seminary administration, and assistant professor of practical theology at Roberts Wesleyan College and Northeastern Seminary in Rochester, New York. In addition to these roles, Dr. Espinoza serves as the associate director of curricular planning for the Spanish Ministry Education & Formation department of the Wesleyan Church, on the board of directors for the Association of Youth Ministry Educators and Teaching Like Jesus Ministries, and is active in the Association for Hispanic Theological Education.
An ordained minister in the Wesleyan Church, Espinoza has several years of ministry experience. He served as a youth pastor, community life pastor, and lead pastor at a vibrant, missional church in Bowling Green, Ohio. Most recently, Espinoza was the college pastor at Faith Church in Lansing, Michigan, where he worked with students from Michigan State University and Lansing Community College. He is a member of the St. Peter Fellowship of the Center for Pastor Theologians.
In addition to several leadership roles and years of ministry experience, Espinoza publishes regularly in the areas of Christian education and youth ministry, theological education, theology and popular culture, with an eye toward strengthening the church's witness and impact on the lives of individuals and communities. He teaches courses in ministry, leadership, and research methods.
Espinoza is married to Hannah, who is much smarter than he, and they are the proud parents of two small but energetic boys. 
Espinoza is the editor of Story, Formation, and Culture: From Theory to Practice in Ministry with Children (2018) and Theology and the Star Wars Universe (2022). He is working on several major projects related to diversity, theological education, youth ministry, and discipleship. His articles and reviews appear in a number of journals and publications, including Christian Education Journal, the Journal of Youth Ministry, Didache: Faithful Teaching, and Christian Higher Education, among others. He currently serves as the senior associate editor of the Journal of Youth Ministry.