The C. Davis and Annette B. Weyerhaeuser Psychology Building
Since its construction in 1986, the School of Psychology building has housed classrooms for all psychology-related programs, faculty offices, and the Fuller Psychological and Family Services clinic—as well as alumni and development offices. The cross and heart sculpture in the middle of the breezeway symbolizes the foundational commitment of the school to meaningfully integrate faith and psychology. Constructing these facilities required carefully moving two Victorian houses a few blocks south, creating a grassy area that is now known as Barker Commons.
"In the School of Psychology, each August we come together as a staff and take 30 minutes out of our day to celebrate Augustpalooza. au-gust /ôˈgəst/: The eighth month of the year and one of seven months with a length of 31 days. pa-loo-za (plural paloozas): A party, celebration or festive occasion.
With summer almost over, it was my turn to lead an activity and I decided to do a scavenger hunt around campus and hide Avengers characters for SOP staff to find. The staff separated into two teams and I gave them each a set of clues to 'scavenge' around campus and look for the Avengers. Each set of clues led them to a different part around campus where they had to search for the Avenger. It was so much fun seeing SOP come together as a community and run around campus (Arol Burns Mall, the Catalyst, the mail center, Travis Auditorium) with a smile on their faces taking a break from the hectic summer work week."
– Meghan Kyle, Fuller staff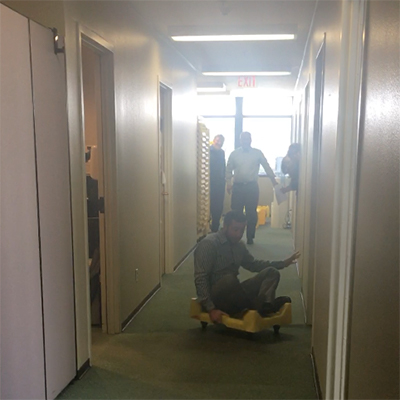 "I work with Development, which until April 2018 was housed on the second floor of the SOP building. Many, many fond memories of that space (and our time together with STAR and the new Career Services group), but what comes to mind is when we were packing up to leave. When the dates were set to make the move over to the Fuller Foundation, we were flooded with HUNDREDS of yellow packing crates and wheeled dollies. As with anything with our team, we took time to have fun with the process, and to celebrate our time together. It made for a fitting way to mark the end of our time in SOP. Another fond memory is our last Development party in our space on the second floor of SOP. We really loved to eat together and invite our friends into that space as well. Plus, we had dance parties on Friday afternoons with Justin Barrett and Rebecca Sok (Justin knows line dancing like no one else!)."
– Gretchen Saalbach, Fuller staff
As you share your memory, be as specific as possible: What building were you in? Who were you with? What geographic details still stick with you today? The more concrete and descriptive the memory you share, the more the Fuller community can enjoy this moment with you.