BEGINNINGS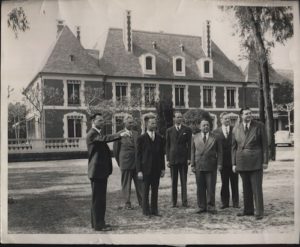 In the mid-1940s, a gifted evangelist named Charles E. Fuller was reaching thousands through his popular radio broadcast, The Old Fashioned Revival Hour. But Fuller began to dream of a way to spread the gospel even further: through a new school on the West Coast that would train young evangelists and missionaries.
Harold John Ockenga, pastor of Boston's Park Street Church and an erudite theologian, shared Fuller's vision but encouraged him to broaden it. The church not only needed evangelists, he said, it needed pastors who were intellectually sound and culturally attuned as well as solidly evangelical.
In May 1947, the two men and four other evangelical scholars met in downtown Chicago, Illinois, to seek God's will together about the idea of a new theological seminary. So strong was the spirit of prayer that they were convinced God was indeed leading them into this venture of faith, and Fuller Theological Seminary was born. This "center for evangelical scholarship," they envisioned, would resist the separatism of the time and be a force for the renewal and broadening of fundamentalism and evangelicalism.
With Ockenga contributing his scholarly proficiency to Fuller's folksy charisma and astute business sense, the new seminary—named not for Charles E. Fuller but for his father, Henry Fuller—planned to open its doors in September 1947 at the beautiful Cravens Estate in Pasadena. City zoning ordinances prohibited the estate's use for instruction, however, so Fuller Seminary's inaugural group of 39 students found themselves attending classes in the kindergarten Sunday school rooms of Lake Avenue Congregational Church—sitting in child-sized chairs as they learned from a charter faculty of theological giants: Everett Harrison, Carl F. H. Henry, Harold Lindsell, and Wilbur Smith.
In subsequent years the student body grew rapidly, and in 1953 the seminary—with enrollment now at 250—moved to the newly constructed Payton Hall on Oakland Avenue, its first and now iconic building at the center of the Pasadena campus.
PRESIDENTS
Fuller has had only five presidents in its 70-year history, each building on the seminary's founding mission of Christ-centered scholarship and cultural engagement.
Prior to current president Mark Labberton, Fuller Seminary has had four presidents since its founding in 1947:
Harold John Ockenga, Founding President
Edward John Carnell, Second President
David Allan Hubbard, Third President
Richard J. Mouw, Fourth President
Read more about each of these presidents in the tabs that follow.
SCHOOLS
Fuller's School of Psychology was established in 1964 with the opening of the Pasadena Community Counseling Center as its first phase, followed in 1965 with the school's first class of 29 students and the inaugural deanship of Lee Edward Travis. In 1972 the American Psychological Association granted approval to the school's clinical PhD program, making it the first seminary-based graduate school of psychology to be accredited by the APA.*
The school's program expanded further with the addition of a second doctoral degree, the PsyD, in 1987, coupled with the move of the Marriage and Family master's program from the School of Theology to the School of Psychology. Another significant step came in 1991 with the establishment of the Lee Edward Travis Institute, a distinctive research unit within the school bringing together faculty, students, and other collaborators to explore topics across the behavioral sciences spectrum.
The seeds for today's School of Intercultural Studies at Fuller were sown in 1964 when the seminary recognized a growing need for training in world evangelism. Donald A. McGavran, founder of the Institute of Church Growth, was asked to be dean, and the new School of World Mission opened its doors to students in 1965, offering master's degrees in missiology. In 1970, the professional doctorate (DMiss) was launched, and in 1976, the PhD program in missiology. An In-Service Mission Research Program begun in 1975 was Fuller's first "study in context" initiative, enabling cross-cultural workers to take some courses while remaining in the field.
In 2003 the school's name was changed to the School of Intercultural Studies, addressing the concerns of many graduates that, in a changing global environment, the school's former name created obstacles for their work. Today the school offers several master's and doctoral degrees, including flexible options that allow students in any location to complete their programs without leaving work and ministry.
The School of Theology, the oldest of Fuller's three schools, grew steadily over the years, innovating new programs to address the needs of each era. The launching of the Master of Arts program in 1970, for example, extended a seminary education to laypersons, equipping them to assume a larger role in church leadership. Also in the 1970s the school pioneered a theological studies program for ethnic minority ministers. Other programs and concentrations were developed over time within the MA and MDiv to offer students more focused preparation in their areas of interest.
PhD and ThM degrees were launched in the 1970s, with advanced programs organized under today's Center for Advanced Theological Studies (CATS) in 1988. The School of Theology also created a number of institutes, centers, and initiativesthroughout its history to address the evolving needs of the church—the Fuller Youth Institute, a unique partnership with the youth organization Young Life, being one of the first.
CAMPUSES
Responding to the call for a Fuller education from those in ministry who were unable to relocate to Pasadena, in 1973 the seminary opened the first of its regional campuses in Seattle, Washington, and Irvine, California. One year later a third regional campus was opened in Menlo Park, California, and by 1979, regional campus programs were operating in six cities in the western United States. Today, Fuller's regional campuses are located in California, Arizona, and Texas.
UNCHANGING MISSION
In the 70 years since its founding, Fuller Theological Seminary has become a place of rich diversity and theological leadership beyond what its founders could ever have imagined. Fuller's more than 3,500 students come from 90 countries and 110 denominations. Three schools and multiple locations allow Fuller to offer a full range of master's and doctoral programs in both traditional classrooms and virtual environments. More than 43,000 alumni serve in churches and communities across the globe.
Yet from Charles E. Fuller's original vision until now, Fuller Seminary's core commitment has remained the same: equipping leaders with minds for careful scholarship and hearts for the unchanging, saving gospel of Jesus Christ.
--
*Questions related to the program's accredited status should be directed to the Commission on Accreditation:
Office of Program Consultation and Accreditation

American Psychological Association