Effective ministry today looks different than it did 10 years ago, and it will only continue to change. Fuller's practice-oriented Doctor of Ministry (DMin) program encourages ministry leaders to think creatively, cultivate new skills, and nurture their hearts to pursue their calling with excellence and passion in an ever changing world. Prepare to move into new seasons of ministry as you are stretched theologically and challenged philosophically with Fuller's DMin program.
Doctor of Ministry
School of Theology
Flexible
Customizable Emphasis and Schedule
Practical
Theological and Practical Foundation
Distance Learning
Stay in Your Context
Study with faculty like these:
VICE PRESIDENT AND CHIEF OF LEADERSHIP FORMATION & ASSOCIATE PROFESSOR OF LEADERSHIP FORMATION
Explore other members of our renowned School of Theology faculty.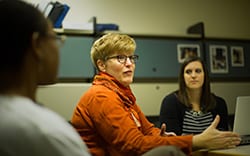 Choose the Path that's Right for You
Choose either the Personalized or the Cohort Track.
Personalized Track
The Personalized Track provides an individualized "learning path" that takes into account our students' differing ministry needs. It combines online learning with on-campus, one-week intensive seminars. Students study with a variety of professors and ministry peers in a program personalized to meet ministry goals.
The 48-unit program requirements:
See Program Requirements below for details on the 60- and 64-unit programs.
DM711: Required 10-week online course (4 units), begins every September, January, or March.
CF704: Two-year ministry mentoring, by phone (4 units)
Four (4) electives from the Course Schedule (32 units)
Doctoral Project Phase: Online (8 units)
Application Deadlines:
The Personalized Track is open for incoming students three times a year.
Fall term (Sept): August 1
Winter term (Jan): December 1
Spring term (Mar): February 1
Military Chaplaincy PT Track
Please contact the DMin office regarding information on Advanced Standing.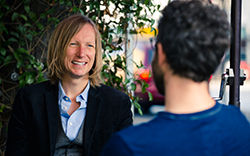 Cohort Track
Cohorts specialize in a specific area of ministry under the guidance of one professor in a uniform community. Cohorts meet once a year for one on-campus seminar. Below is a list of upcoming and previous cohorts.
48-unit cohort coursework includes:
See Program Requirements below for details on the 60- and 64-unit programs.
Years 1-3: 12-unit per year on-campus seminar (36 units)
Year 4: 4-unit elective from the Course Schedule
Years 4–5: 8 units, Doctoral Project Phase (online)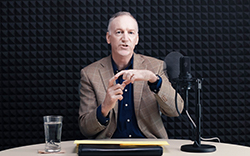 Fuller's DMin offers three unit ranges. Depending on the candidate's master's degree, applicants qualify for the 48-unit, 60-unit, or 64-unit DMin program. Learn more about the Doctor of Ministry Program Learning Objectives.
48-unit DMin Structure
Students with an accredited MDiv degree complete the following:
40 units of coursework
8 units in the Doctoral Project Phase
Average completion: 4-5 years
60-unit DMin Structure
Students holding an accredited MA in Theology of at least 80 quarter units (at least 54-semester credits*) will complete the following in addition to the 48-unit structure:
8-unit Missional Ecclesiology
4-unit NT Greek
Average completion: 5-6 years
64-unit DMin Structure
Students holding an MA in Theology of at least 72 quarter units (at least 48-semester credits*) will complete the following in addition to the 48-unit structure:
8-unit Missional Ecclesiology
8-unit Elective
4-unit NT Greek
Average completion: 5-6 years
*Semester-credit/hour to Quarter-Unit conversion is on a 1 to 1.5 ratio; 1 credit is equal or 1.5 units. For example, a 3-credit class is equal to 4 quarter-units. 

"Fuller's DMin program was just what I needed to help me go deeper in ministry; everything I learned was applicable to my work as a pastor. Getting to know and learn from professors, practitioners, and other fellow pastors was invaluable. I am so grateful for my time."
– Justin Fung (DMin '19)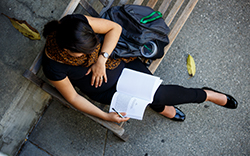 A conferred M.Div degree or its equivalent qualifies for the 48-unit program. A theological Master's degree of at least 80 units qualifies for the 60-unit program; a theological Master's degree of at least 72 units qualifies for the 64-unit program.
Minimum GPA of 3.0 (on a 4.0 scale).
Three years of post-master's degree ministry experience. Please contact the DMin office regarding exceptions.
Currently serve in a ministry leadership position.
One course in either NT Greek or OT Hebrew at the graduate or undergraduate level.
International students: earn a TOEFL Score of 600 (paper), 250 (computer), or 100 (internet). This applies to applicants for whom English is a second language and/or who have not earned a master's degree in English from the US, UK, Australia, New Zealand, or Canada. Please visit the TOEFL website for more information.
A GRE score is not required.
Advanced Standing as available to applicants who have completed one of the following programs: 1) military chaplaincy training, 2) Renovare, or 3) the Potter's Inn. Please contact the DMin office for Advanced Standing information.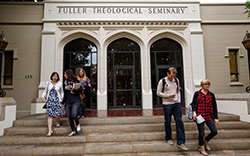 Get started on your path to becoming a Fuller DMin student:
Begin the online application and complete required questions.
Three References: 1) Pastoral, 2) Academic, and 3) Ministry Peer
Four Required Essays: 1) Religious Autobiography, 2) Statement of Experience, 3) Statement of Purpose, 4) 5-page writing sample base on the Darrell Guder article, downloadable from the online application.
$75 Application fee
Official transcripts from all undergraduate and graduate institutions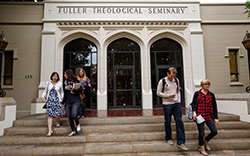 DMin tuition is $435 per unit, due the first day of class. Please check the Tuition and Fees schedule for current per-unit tuition rates.
Based on the $435 rate, total tuition is currently:
48-unit program: $20,880
60-unit program: $26,100
64-unit program: $27,840
Student fees are assessed at $105 per course.
Walt Gerber Need-Based Scholarship
Honoring the late distinguished pastor Walt Gerber and sustained through the generosity of an anonymous donor, limited funding is available as part of the Walt Gerber Need-Based Scholarship to all students. Accepted students will need to complete the following to apply for the scholarship:
2019–2020 FAFSA form
Fuller Financial Aid Form
DMin Scholarship Application (part of the Fuller Financial Aid form)
Currently, we are unable to offer full scholarships.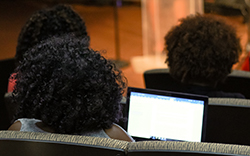 Lifelong Learning Options
We promote lifelong learning at Fuller by providing ministry leaders with the following opportunities for continued education.
Complete five DMin classes as a non-credit student for $2,500 (or $500 per course). RAMLT students complete 1,500 pages of reading and submit a 15–20 page paper due within four months of the on-campus course.
Who Can Audit a DMin Course?
To audit a DMin course at Fuller, you must:
Hold a theological master's degree with a GPA of at least 3.0
Have been involved in ministry for three or more years
Be currently serving in a ministry context
Begin a DMin Non-Credit Application
DMin Audit Fees
DMin Alumni: $230/course
Qualified Auditor Fee: $580/course
Fuller DMin Spouse: $25/course
Ministry colleague: Current Fuller DMin students may bring a colleague to join one course at a reduced fee of $230.
Fuller Master's Alumni: $130 for one course
Richard Peace Lifelong Learner Program (RPLL)
Fuller DMin graduates may audit DMin courses for $230. As part of the Richard Peace Lifelong Learner Program, following five audits, all future classes are free for life.

Payton Lectures
Featuring Willie Jennings, associate professor of systematic theology and Africana studies at Yale Divinity School.
April 1–2, 2020
Fuller Seminary, Pasadena
Request More Information About the Doctor of Ministry
You May Also Be Interested In
Forms students holistically for agile, biblically grounded leadership in the church, the marketplace, and society at large
Master of Arts in Theology (MAT)
One of our most flexible degrees, allowing students to dive deeper into a specific area of interest as well as preparing them for advanced theological study if they wish.
Office Hours
Monday–Thursday
8 am – 5 pm (Pacific Time)
Friday
10 am – 5 pm (Pacific Time)