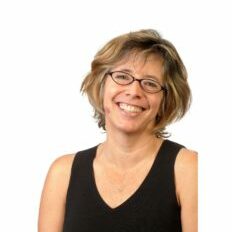 Affiliate Assistant Professor of Interdisciplinary Studies
BA, University of California, Davis
MCS, New College Berkeley
MDiv, Pacific School of Religion
PhD, Fuller Theological Seminary
Catherine Barsotti, a minister in the Evangelical Covenant Church, mostly finds herself in urban settings which she loves. She has worked in diverse ministry contexts within Anglo and Latino communities, including international work in community development, especially with youth in Mexico City and Oaxaca; as a youth minister and part-time associate pastor for worship and outreach in Berkeley, California; as a chaplain at a domestic violence center for women and children in Chicago; and as a mentor at a Latino ministry training center in Compton, California. Dr. Barsotti has also taught in various settings: since 1993 at Centro Hispano de Estudios Teológicos (CHET)—teaching in the areas of theology, ethics, and spirituality (in Spanish); from 2000–2016 in practical theology for Young Life; and since 2005 for Fuller Theological Seminary in spirituality, missiology, and theology and film (in Spanish and English). She wrote movie reviews for "The Covenant Companion" and "Faith@Work" for 18 years.
Being the child of immigrants she loves all people, things, and experiences found in that liminal space between cultures. When not working, she enjoys the gym, good books, cooking, the beach, and traveling with her husband. And she thanks God for the blessing of being the "abuelita" of five grandchildren.
God in the Movies: A Guide for Exploring Four Decades of Film. Grand Rapids: Brazos Press, 2017.
Finding God in the Movies: 33 Films of Reel Faith. Grand Rapids: Baker Books, 2004 (with Robert Johnston).
"Películas–¿A Gaze from Reel to Real? Going to the Movies with Latinas in Los Angeles." In Reframing Theology and Film, edited by Robert K. Johnston, 179–201. Grand Rapids: Baker Academic, 2007.
"Al Cine con Latinas en Los Ángeles." In Vivir y servir en el exilio, edited by Jorge Maldonado and Juan Martínez, 151–172. Buenos Aires: Ediciones Kairos, 2008.
"Entertaining Faith: Finding God in the Movies." Breakpoint Worldview (July–August, 2004): 10–15 (with Robert Johnston).