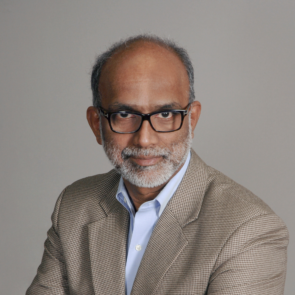 Affiliate Assistant Professor on Transformational Development
Ph.D., Development Studies (Middlesex University and Oxford Centre for Mission Studies, London, UK)
M.S., Agriculture and Rural Sociology (Tamil Nadu Agriculture University, Madurai, India)
B.S., Agriculture (Tamil Nadu Agriculture University, Coimbatore, India)
Jaisankar (Jai) Sarma, Ph.D., has been working in the field of Christian humanitarian and transformational development work over the past 35 years. He brings global awareness of mission and cross-cultural leadership skills as he has lived in 4 different countries, worked in over 80 countries and managed globally dispersed teams over the past 20 years. His experience includes that of being a project manager at the grassroots level, being a country director, leading global field operations, and serving in other senior leadership positions at World Vision International. Currently, he works as a consultant serving International Christian Organizations in strategy formulation, spiritual formation and discipleship, staff training, program development and evaluation.
Dr. Sarma is a passionate follower of Christ, whose life mission is to serve the poor. He is committed to a holistic understanding of mission, which breaks down the divisions between physical, social, and spiritual aspects of life and instead sees them as a coherent whole. He has a Ph.D. in Development Studies from the Middlesex University in London and the Oxford Centre for Mission Studies, UK.
He has been married to his wife, Saro, for the past 34 years and they have two adult children who live on the East Coast. He enjoys working out, reading non-fiction, and teaching international development.
Sarma, Jaisankar. "Importance of Role and Agency of Fieldworkers in Transformational Development Work by Christian NGOs" in Christian Relief, Development, and Advocacy: The Journal of the Accord Network 2, no. 1 (July 31, 2020): 20–28. Sarma, Jaisankar, and Bernard Vicary. "Shaping Assessments to the Organization's Values and Needs" in Attacking Poverty in the Developing World: Christian Practitioners and Academics in Collaboration. Waynesboro, GA: Authentic and World Vision, 2005. Judith M. Dean, Julie Schaffner, Stephen L. S. Smith, editors. Vicary, Bernard, Jonathan Flower, Seamus Anderson, Dorothy Scheffel, and Jaisankar Sarma. "Learning through Evaluation with Accountability and Planning." World Vision International, Monrovia, CA, 2005. Byworth, Justin, Jaisankar Sarma, and Bernard Vicary. "Transformational Development Field Guide." World Vision International, Monrovia, CA, 2000. Sarma, Jaisankar, Donald P. Brandt, Greg Thompson, and Stephen Commins. "World Vision in Conflict and Peace: A Perspective from Cambodia" in Pacifica Review: Peace, Security & Global Change 8, no. 2 (November 1, 1996): 69–79.