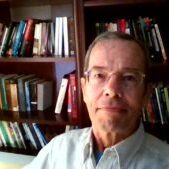 Affiliate Assistant Professor of Christian Ethics
BS, San Diego State University
MD, Wake Forest University School of Medicine
MDiv, Bethel Seminary
ThM, Fuller Theological Seminary
PhD, Fuller Theological Seminary
Having grown up in Southern California, John Mustol became a medical doctor and served as a medical missionary in the Comoro Islands off the east coast of Africa, and then in private practice. After retiring from medicine, he attended Fuller and eventually received a PhD. His areas of interest are in Christian ethics, ecological ethics, human nature, and Christian transformation. He has been married for 47 years to his dear, wise, and wonderful wife Betsy. They have two fine sons and five beautiful grandchildren. They currently live in Houston, Texas. God has been so gracious, and they are so thankful.
"Evolution and Intelligent Design: A Response to Edward Harris and Gerald Weissmann." The Pharos 69, no. 4 (Autumn 2006): 67–68.
"The Ethics of Medical Error." Christian Ethics Today 72, no. 5 (December 2008): 18–19.
Dusty Earthlings: Living as Ecophysical Beings in God's Ecophysical World. Eugene, OR: Wipf and Stock, 2012.
Rebecca Shenton and John Mustol. "Climate Change." In Discerning Ethics: Diverse Christian Responses to Divisive Moral Issues, edited by Hak Joon Lee and Tim Dearborn. Downers Grove, IL: InterVarsity Press, 2020.