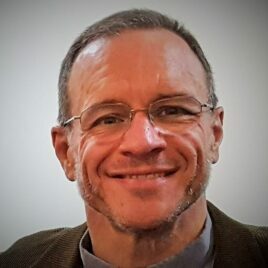 Research Faculty and Director of the Muslim-Christian Dialogue Initiative
Ph.D., Islamic Studies and Christian Theology (Yale University)
M.A., M.Phil., Religious Studies (Yale University)
M.Div., Cross-Cultural Studies (Fuller Theological Seminary)
AB, Religion (Princeton University)
Joseph Cumming rejoined Fuller Seminary in 2022, having previously served on Fuller's faculty from 2001 to 2008, teaching courses in Islamic Studies. He returns to Fuller from Yale University, where he served in a variety of positions, including as Director of the Reconciliation Program at the Yale Center for Faith and Culture, as an Instructor teaching courses at Yale Divinity School, and as Pastor of the International Church at Yale.
Dr. Cumming is known internationally for his work on Muslim-Christian and Muslim-Christian-Jewish reconciliation and understanding, and for his friendships with prominent Abrahamic faith leaders and scholars around the world. He and his wife live half the year in the Middle East, and he travels regularly to Africa, Asia and elsewhere to meet with religious leaders, to speak at conferences and to teach.
Born and raised a "seeking agnostic" in New York City, where the majority of his friends were Jewish, he came to faith in Jesus Christ through reading the New Testament on his own as a teenager. After undergraduate studies, he and his wife lived for 15 years in the Islamic Republic of Mauritania, where they raised their children in one of the nation's poorest urban neighborhoods and were deeply affected by the love and hospitality of their neighbors. During these 15 years he served as Director of Doulos Community, a Christian NGO working in nutrition, public health, agriculture, literacy, microcredit, schools for poor children, vocational training and business skills training for the unemployed, and occasionally emergency relief. Their largest program provided food and health education to 30,000 malnourished children and mothers. He also served as President of the national Federation of NGOs in Mauritania. He continues to oversee small community development projects in Mauritania.
Through his work at Yale 2006-2022 he became known internationally for his work with senior Muslim, Christian, and Jewish leaders and scholars around the world. He was one of the main architects of the "Yale Response" to the Common Word initiative, and he organized the first major Common Word conference, bringing together top-tier Muslim, Christian and Jewish leaders from around the world to meet at Yale. He spoke several times at the annual Doha Conference on Interfaith Dialogue – more than once as a keynote speaker.
A fluent Arabic-speaker who works regularly in more than 10 languages, Dr. Cumming has given lectures in Arabic at Al-Azhar University, at the shrines of Ḥusayn and 'Abbās in Karbalā', and at other Islamic institutions. He has been interviewed in Arabic on Al-Jazeera and other Arab television networks, in English on American and Canadian television, and in French and German by European and African news media.
He lives half the year in Cairo, Egypt, where he is working to establish a groundbreaking academic exchange program between Fuller Seminary and Al-Azhar – the flagship institution of Sunnī Muslim religious scholarship worldwide and the oldest university in the world. This program will enable Fuller students to take courses on Islam at Al-Azhar and will potentially enable Al-Azhar scholars to visit Fuller to learn about the Christian faith.
Dr. Cumming has two main research and teaching interests – 1) the major theological issues that have historically divided Muslims and Christians, and 2) practical aspects of Christian ministry in Muslim-majority contexts. In his approach to both areas, he is known for the Arabic principle "taqrīb bi-lā tadhwīb" – "rapprochement without dissolving [of irreducible distinctions]." He also attempts to follow the example of his mentor Dr. Dudley Woodberry at Fuller – " toward respectful understanding and witness."
See more information about him here: www.josephcumming.com.