Ministry and Leadership in Middle East Contexts: A Doctor of Ministry Cohort in Cairo
Application Deadline: May 1, 2022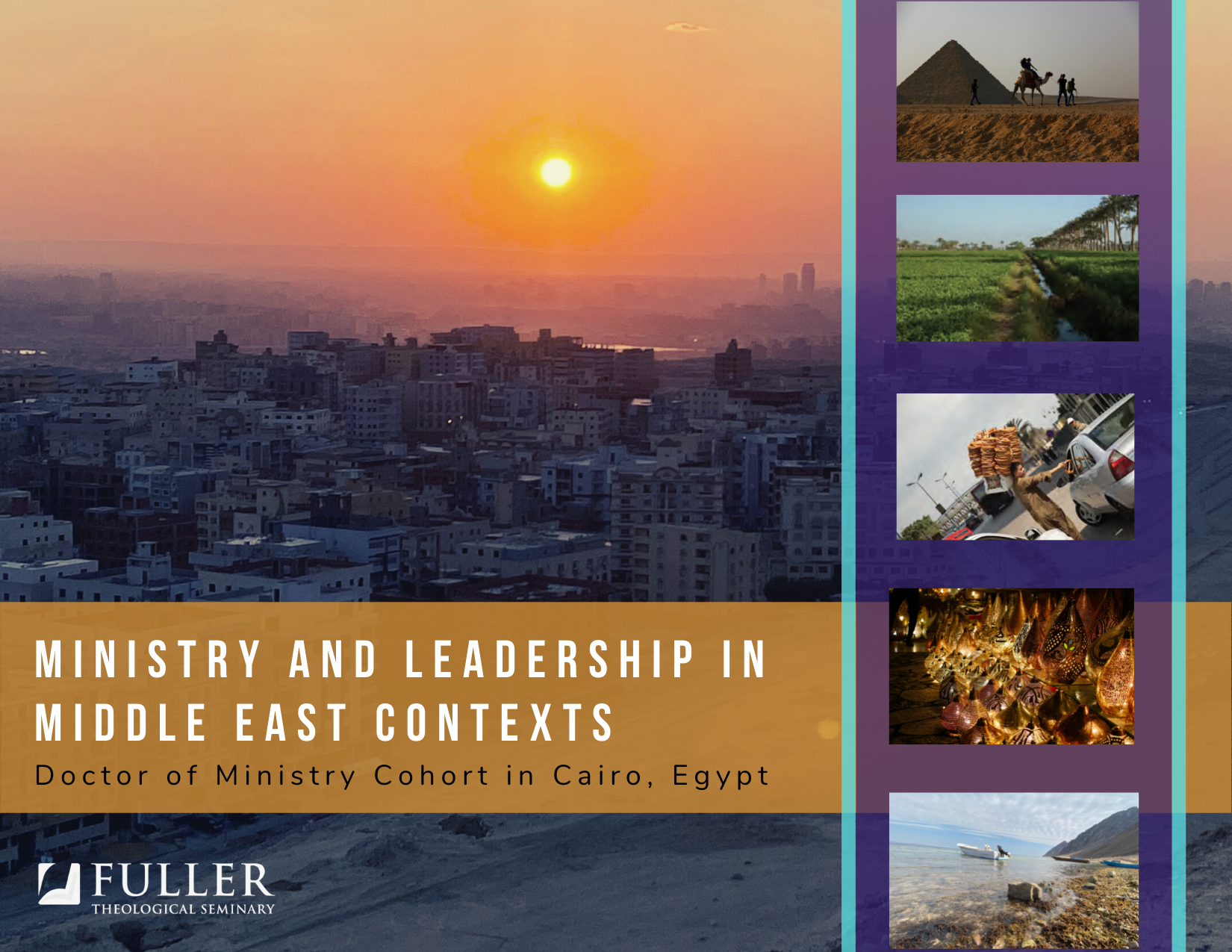 Fuller is excited to launch this brand new cohort in partnership with the Evangelical Theological Seminary in Cairo. Ministry in Middle Eastern contexts is challenging, and sometimes dangerous. This Fuller DMIN cohort will bring the best scholar-practitioners together with students who are exceptional ministry leaders to create a learning environment that is theologically rich, contextualized, and practical.
Year One
The Mission of the Church in Middle East Contexts (12 UNITS)
Reading Course: June 20–September 2, 2022
In-person Intensive: October 24–28, 2022 – Cairo, Egypt
Writing Course: January 2–March 17, 2023

Lesslie Newbigin wrote that the only hermeneutic of the gospel is a congregation of men and women who believe it and live by it. The only church that makes a difference in culture is a real, tangible, visible church. Every congregation in any setting has the opportunity and the obligation to be a missional outpost. But beyond that, the local church must begin to see itself in terms of being a dynamic movement rather than a static organization. This course will explore how local churches might reimagine their work in light of the primary work of God the missionary. We will explore the theological, missiological, and sociological basis for missional movements and how that identity emerges and is lived out in the practices of a local congregation. This module will address the challenges that face churches located in the ever-changing Middle East. Emphasis will be placed on the missional church in Middle Eastern contexts
Taught by Kurt Fredrickson, Hani Hanna, and Tharwat Wahba
Year Two
Developing and Sustaining Churches in Middle East Contexts (12 UNITS)
Reading Course: June 19–September 1, 2023
In-person Intensive: October 23–27, 2023 – TBD
Writing Course: January 2–March 15, 2023

The second year will focus on a subject of vital importance to the Middle Eastern church, and the global church: the interfaith context. Considering the recent evolution of religious sentiment in the Middle East, this module will expand students' understanding of Islam, its historical development, and its present-day constituents in the countries of the Middle East. Further it will orient students to Christian-Muslim relations, alerting them to the ongoing importance of why contextualization and renewal of a religion are essential to its success and growth. Finally, we will consider the future of Arab Christianity in its Muslim-majority context, its relationships with the global church, and the forms of support and awareness from the West which will most help the local church to survive and thrive in this challenging context. These themes will be developed as each student looks at their own ministry context.
Taught by Martin Accad and Anne Zaki
Year Three
Ministry Leadership in a Changing World (12 UNITS)
Reading Course: June 17–August 30, 2024
In-person Intensive: October 21–25, 2024
Writing Course: January 2–March 14, 2025

Year three of the cohort will address the uniqueness of Middle Eastern Christianity and the place of the Arabic church in the context of the global church. The focus of this module will be practical, presenting models and skills for pastoral and preaching ministry, sharing themes relevant to effective leadership in the church, and touching on issues such as the dynamics of change. Additionally, the mission of the church will be looked at from a variety of biblical, historical, and practical perspectives, so that serious consideration can be given to the theology and work of the Holy Spirit in the growth and health of the church, and to the unique challenge of evangelism in the Middle Eastern context. This module will challenge pastors to think creatively and concretely about the church's role, as well as their own, in shaping and healing society, addressing issues of social justice, community development, conflict resolution, and doing ministry among younger generations. The pastor's work of theological and cultural reflection will be introduced as a principal means for personal renewal and for our engagement with society.
Taught by Atef Gendy and Mark Labberton
YEARS FOUR AND FIVE (2025–2026)
DOCTORAL PROJECT PHASE (12 UNITS)
DM710: Doctoral project proposal online 10-week course (4 units)
DM706: Doctoral project writing course (8 units)
60- and 64-unit students will need to take an additional 12 or 16 units of coursework. Please see the main DMin webpage for more information, or contact the DMin office at dmin@fuller.edu.
Office Hours
Monday–Thursday
8 am – 5 pm (Pacific Time)
Friday
10 am – 5 pm (Pacific Time)