Pentecostal-Charismatic Ministry in the 2020s: Hope & Healing for a Broken World
Application Deadline: July 26, 2024
Decisions Sent: August 16, 2024
Central to pentecostal-charismatic spirituality is an embrace of the ongoing and surprising work of the Holy Spirit—but doing so is not without challenges. On one hand, the impact of its evangelistic and missional commitments (including numerical multiplication) has been profound; but on the other, the movement's excesses expose the importance of testing the unexpected and often unprecedented. The opportunities and difficulties for pentecostal-charismatic ministry in the 2020s are greater even than the past, in this post-pandemic time of cultural-political polarization, deepening socioeconomic inequalities, and climate change.
Spirit-filled, Jesus-following, and biblically rooted disciples must be renewed spiritually, academically, interculturally, vocationally, and emotionally to serve as resilient, innovative ministers who offer hope and healing to those in our context. This three-year DMin cohort provides a community to support our personal and collective inquiry into the "how" of our response to God's call on our lives.
Year One
Pentecostal Churches Around the World: Multiculturality, Health/Wealth, and (Misguided) Hope
Fall 2024 (6 units): Sep–Dec, online
Winter 2025 (6 units): Jan–Mar, online
Spring 2025 (6 units): Mar–Jun, online
Our journey in Year 1 will be both deep and wide: deep into what it means to be pentecostal, its charisms and attractiveness (including its message of power, healing, and prosperity), and how it mobilizes, catalyzes, and drives our hearts, loves, and aspirations; and wide in an exploration of its multiplicities across the world, including its embodied performances, inter- and trans-cultural contextualizations, and misguided beliefs and practices. Along the way, students will better understand themselves and their ministries, including their ministry/missional communities, by identifying afresh the challenges we confront and the opportunities before us.
Year Two
Pentecostal Ministry/Mission Challenges: Naming Our Opportunities, Mapping Our Resources, and Charting Our (Vocational) Responses
Fall 2025 (6 units): Sep–Dec, online
Winter 2026 (6 units): Jan–Mar, online
Spring 2026 (6 units): Mar–Jun, online
This second year seeks to identify theoretical, theological, and practical resources to nurture understanding, development, and transformation—in particular, how to envision and share God's hope and healing for our churches and missional communities. In addition to taking concrete steps toward degree program completion (getting a research or project proposal accepted, writing up a literature review, completing an initial draft of a dissertation first chapter), students will identify, implement, and assess intercultural, emotional, and spiritual interventions for the ministerial and missional vocations to which we have been called.
Year Three
The Holy Spirit's Responses to Our Brokenness: The Doctoral Project
Fall 2026 (6 units): Sep–Dec, online
Winter 2027 (6 units): Jan–Mar, online
The final year's work will focus primarily on completing the doctoral project, whether students choose a case study, program assessment, curricular (re)design, or another approved dissertation format. This involves substantive writing and communication at a post-graduate level while developing translational communicative skills to share with our churches, congregations, and other ministry/mission partners—both about the pain and brokenness of our lives, churches, and world, and also in anticipation of the Spirit's redemptive work in all of these spaces. Along the way, students will interact not only with the cohort leader/professor but also with a small group of student peers, giving and receiving critical feedback on their conceptualizations and articulations.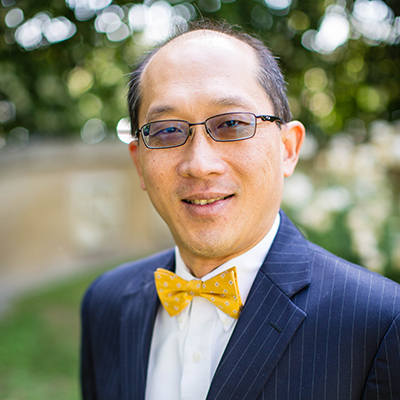 Amos Yong came to Fuller in 2014 as professor of theology and mission and director of the School of Intercultural Studies' Center for Missiological Research, overseeing the PhD and ThM intercultural studies programs. In 2019, he was appointed dean of the School of Intercultural Studies and of the School of Theology, and in 2020 was named chief academic officer for Fuller. He has authored or edited more than 50 books and 225 scholarly articles, and remains active in church and academy.
Before coming to Fuller, he taught for nine years at Regent University School of Divinity, where the last positions he held were J. Rodman Williams Professor of Theology and dean. Prior to that he was on the faculty at Bethel University in St. Paul, Bethany College of the Assemblies of God, and served as a pastor. He also worked in Social and Health Services in Vancouver, Washington.
Yong's scholarship has been foundational in Pentecostal theology, interacting with both traditional theological traditions and contemporary contextual theologies—dealing with such themes as the theologies of Christian-Buddhist dialogue, of disability, of hospitality, and of the mission of God. He has authored or edited almost four dozen volumes. Among the most recent are Renewing the Church by the Spirit: Theological Education after Pentecost (Theological Education between the Times) (forthcoming, 2020), Pentecostal Theology and Jonathan Edwards (T&T Clark, 2019), Mission after Pentecost (Mission in Global Community): The Witness of the Spirit from Genesis to Revelation (2019), Can "White" People Be Saved?: Triangulating Race, Theology, and Mission (2018), Learning Theology: Tracking the Spirit of Christian Faith (2018), The Bible and Disability: A Commentary (2017), and the Global Renewal Christianity series.
Learn More and Connect with an Admissions Counselor
Office Hours
Monday – Friday
8 am – 5 pm (Pacific Time)
To view in-person welcome center hours for Pasadena, Arizona and Houston, click here.